China province seizes imported clothes on safety worries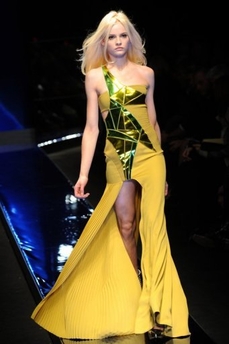 Versace autumn-winter 2010/2011, Versace clothing was among that seized in Zhejiang - Photo : Giuseppe Cacace/AFP
BEIJING, March 17 (Reuters) - The eastern Chinese province of Zhejiang has seized items of imported top-end clothing made by the likes of Versace and Hugo Boss after tests showed some were of substandard quality and a potential health threat. Only 43.5 percent of the items tested by provincial authorities from stores in three Zhejiang cities passed quality tests, the Zhejiang Administration for Industry and Commerce said in a statement on its website.
It said the clothes were imported from countries including France, Italy, Turkey, Vietnam, India, South Korea, Egypt and Romania.
Brands caught up in the tests of everything from t-shirts to skirts and jeans including those made by Dolce & Gabbana, Tommy Hilfiger, Zara, H&M, Hermes and Trussardi.
"The quality situation has caused people to raise their eyebrows," the statement said.
Some of the clothes had excess levels of formaldehyde in them, which could cause breathing and skin problems or even cancer, it added.
Other items had more prosaic issues, such as improper labelling about size or washing instructions.
"The Zhejiang Administration for Industry and Commerce has already seized the substandard items and will investigate sales outlets which sold them," the statement said.
China has been rocked by numerous product safety scandals over the past few years.
At least six children died after drinking milk contaminated with the industrial chemical melamine in 2008, and about 300,000 sought medical treatment, many with kidney stones.
While the government has announced several crackdowns, it also likes to point out that the issue is a global one not limited to China.
China's quality watchdogs frequently announce seizures of imported goods they say are not up to standard.
(Reporting by Ben Blanchard)
© Thomson Reuters 2023 All rights reserved.