China luxury boom gets new impetus from old bags
May 18 - No wonder luxury brands like Prada are queuing up to list in Hong Kong. The $35 million initial public offering of Milan Station, a second-hand handbag retailer, has been more than 2,000 times oversubscribed in Hong Kong, setting a new record. Investors are eager to tap into China's new-money love of old brands. Yet they may be forgetting the risks that go with luxury, like tariffs, counterfeiting and changing tastes.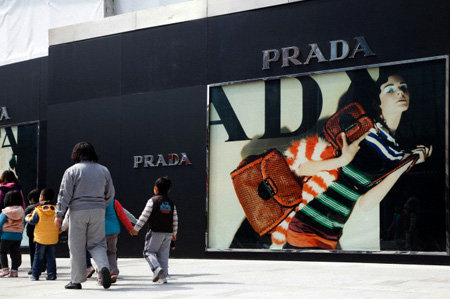 Prada store in Shanghai, China (Photo: Corbis)
High-end fashion has become a hot investment theme. Average spending on designer brands by Hong Kong residents has been rising at 18 percent annually in the past five years, according to UK consultant Synovate. Visitors, most of them from mainland China, contributed as much $35 billion in total retail spending in Hong Kong in 2009, according to the Hong Kong government.
Milan Station is just the entrée. Prada, Jimmy Choo and Samsonite all plan to float in Hong Kong to raise brand awareness in China. A valuation premium is one attraction. Milan Station is valued at 20 times 2010 earnings, on a par with the 20 times multiple currently sported by more established brands such as LVMH and Coach.
China may become the world's biggest luxury market in 2015, as Mckinsey predicts. But profiting from that may be challenging. Tariffs in mainland China remain high, leaving Hong Kong prices for designer goods 20 percent lower than across the border, according to Bain & Co. Just 40 percent of Chinese luxury purchases actually take place in China, China Market Research Group estimates.
Rampant fakes remain a common risk. But the biggest unknown may be what will happen as Chinese consumers get richer. As they become more confident about their tastes, they may be less drawn to big brands. Conspicuous consumption may fall out of fashion, as it has somewhat in Japan.
Besides, there is no guarantee that today's winners will be tomorrow's. Chinese producers already rule in high-end alcohol, and are likely to grab shares in segments such as jewellery, according to KPMG. Tastes change, and Western domination of luxury brands is not a given. The white-hot Milan Station IPO suggests investors aren't looking past the sparkly surface.
CONTEXT NEWS
Milan Station, a retailer of second-hand luxury bags, was 2,180 times oversubscribed in its Hong Kong public offering, according to a person familiar with the matter. The company was seeking to raise $35 million from its offer, which was underwritten by China Merchants Securities.
Italian fashion house Prada's initial public offering is expected to be launched on June 13, with a trading debut set for June 23, according to Hong Kong's Apple Daily. Coach, Jimmy Choo and Samsonite are also understood to be seeking for listings in Hong Kong.
By Wei Gu. Editing by John Foley and David Evans
(the author is a Reuters Breakingviews columnist. The opinions expressed are her own)
© Thomson Reuters 2023 All rights reserved.