Chan and Li team up in "Forbidden Kingdom"
By Iain Blair
LOS ANGELES (Reuters) - In a rare moment of candor in Hollywood, Jackie Chan admitted he was unimpressed with the script of his new movie, "The Forbidden Kingdom" but the chance to work with fellow martial arts star Jet Li for the first time lured him to the project.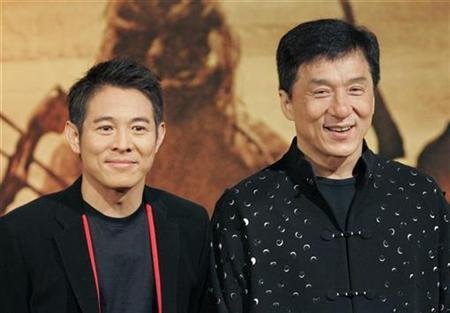 The film -- Chan is not sure if it's his 94th or 95th movie -- opens in major U.S. cities on Friday. While his fans may think he and Li never worked together before because of a professional rivalry, Chan told Reuters they actually are "close friends" who "could never find the right project."
Then came "The Forbidden Kingdom" with Rob Minkoff ("The Lion King") directing.
"When they gave me the script, I thought it was nonsense," Chan said. "But they told me Jet was doing it so I said 'yes.' The other reason was the director. I loved 'The Lion King' so I knew he'd make a great fantasy for the kids, and it is."
The filmmakers did run into one big problem with the two martial arts masters.
"After that first take, Rob and the cameraman came over and told us, 'You guys are too quick. Can you slow down?"' Chan said. "But we both wanted to show off."
Chan, 54, was a major star of Hong Kong action flicks before making it big in the United States in the "Rush Hour" movies and Li, 44, followed a similar career path starting in Asia and breaking into Hollywood with "Lethal Weapon 4."
Both now act and produce their own films and in a new twist for "Forbidden Kingdom," they both have dual roles.
SAVING THE MONKEY KING
Filmed in China and based on the Chinese legend of the Monkey King, "Forbidden Kingdom" tells of Jason (Michael Angarano of TV's "24"), a nerdy Boston teenager and kung fu fan who is befriended by the elderly owner (Chan) of a pawnshop.
When the old man is killed in a robbery, Jason rescues a magical staff and suddenly finds himself transported back to ancient China where he faces the huge task of freeing the fabled Monkey King (Li), imprisoned by a powerful war lord.
His task is fraught with peril until help appears in the form of kung fu master Lu Yan (Chan) and the Silent Monk (Li) who team up with the teenager to defeat the Jade War Lord.
The film's fight sequences were choreographed by Woo-Ping Yuen ("Crouching Tiger, Hidden Dragon") and despite the fact it was his first time working with Li, said the fights felt as if they had collaborated for a long time.
"It felt so natural after just one rehearsal even when it was very complex. When Woo-Ping said, 'Let's rehearse again,' I said, 'We don't need to -- let's just shoot!' And Jet looked at me and went, 'OK! Let's shoot!' It was like a challenge."
Hong Kong-born Chan said he has broken dozens of bones (including his nose three times) since he began working as a stuntman at age 17 following a decade of martial arts and acrobatic training with the China Drama Academy.
Far from slowing down, Chan seems determined to maintain a punishing work schedule, as well as his unofficial reputation as the hardest-working man in show business.
He is a character in June's animated movie "Kung Fu Panda," and he said he may make another "Rush Hour." Chan has a clothing company, cosmetics line and a chain of gyms, not to mention his work as a Goodwill Ambassador for UNICEF/UNAIDS.
"I want to retire but there's another Jackie who won't let me," he said. "He keeps thinking about new scripts, new films, new projects, so I just keep going."
(Editing by Bob Tourtellotte and Bill Trott)
© Thomson Reuters 2023 All rights reserved.