CEOs urge retailers to dare to be different
By Mark Potter
LONDON (Reuters) - Retailers must offer value for money, though not necessarily the lowest prices, and dare to be different if they are to survive a deepening economic recession in Britain, according to top industry executives.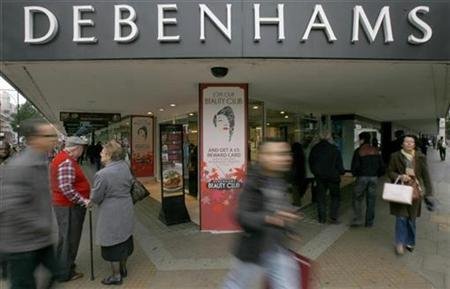 Trading is likely to get tougher in coming months as a weaker pound and rising import costs mean stores will have to raise prices in the teeth of flagging demand, they warned at a Retail Week conference in London on Wednesday and Thursday.
However, rising business failures will ease competition for survivors and plunging property prices will create an opportunity for the few -- mostly discounters, supermarkets and major international players -- with the money to expand.
"What we're seeing this time, I think as distinct from previous recessions, is that capacity is coming out early," said Justin King, chief executive of grocer J Sainsbury.
"For those of us that remain, the opportunity to soak up that capacity ... is much greater."
Most retailers are struggling as shoppers curb spending amid rising worries about their jobs, even as disposable incomes are boosted by record low interest rates and falling fuel costs.
Some, including longstanding chains like sweets-to-DVDs group Woolworths and furniture store MFI, have collapsed, and more could run into trouble as quarterly rent payments fall due next Wednesday, law firm Wedlake Bell said this week.
"I think we've still got more pain to come until we can talk about recovery," said Alan White, chief executive of N. Brown, a specialist in larger-sized clothes for older women.
Phil Wrigley, executive chairman of women's fashion chain New Look, warned retailers faced a "quantum leap" to manage rising import costs stemming from the slide in the pound.
"You have to take market share to survive," he said.
VALUE
Low prices are the key to attracting shoppers, argued Hussein Lalani, commercial director at discounter 99p Stores.
"Every penny counts," he said, adding that in one town a shop selling items for 1 pound went out of business when one of his own stores, which sell for a penny cheaper, opened nearby.
Others, however, said value for money was more important.
"Consumers want special products at special prices, not necessarily the lowest prices," said John Lovering, chairman of department stores group Debenhams, which has seen strong sales of its "Designers at Debenhams" range.
Sainsbury's King said it was also important to capture the mood of the times, adding that campaigns like "cook and save" and "love your leftovers" had helped his group to prosper, despite forecasts it would suffer from its mid-market position.
Angela Spindler, chief executive of The Original Factory Shop discount chain, said retailers needed to learn lessons from the collapse of Woolworths, which failed to differentiate itself amid growing competition from supermarkets and the Internet.
Finding a distinct voice was key to reviving Wm Morrison Supermarkets, agreed its chief executive Marc Bolland.
He rejected analysts calls to sell off Morrison's manufacturing business and follow rivals' with a big push into non-food products because he wanted to keep the firm's claim to offer the freshest food, thanks to sourcing products internally.
Pain for some is creating opportunities for others.
Bob Willett, chief executive of Best Buy's international business, said the U.S. electrical goods retailer had delayed its UK launch until next Spring in part to benefit from "enormous reductions" in property prices.
Lalani of 99p Stores said he was also looking to benefit from a "gap-tooth high street" and said he could envisage a chain of around 500 stores, compared with about 75 currently.
(Editing by Jon Loades-Carter)
© Thomson Reuters 2022 All rights reserved.