Caution on Main Street: retailers fret ahead of key sales season
August 24 - Caution is the watchword for apparel executives heading into the all-important holiday season and their lack of confidence is scaring investors.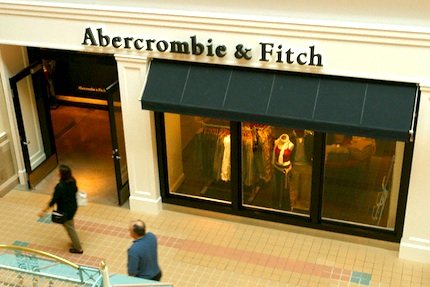 Teen clothes retailer Abercrombie & Fitch sayed it was heading into a period of "greater uncertainty". - photo: corbis
Wary of talk of a double-dip recession, consumers are waiting on bargains, leaving retailers in the dark over how sales trends will turn out in the key year-end shopping season.
Companies like Aeropostale Inc, Ross Stores, Children's Place and Abercrombie & Fitch, which are already battling high raw material costs, warned of a brittle economic environment that could weigh on sales if shoppers go into hiding.
Also on Thursday, Gap Inc reported a 19 percent drop in profit as the clothing retailer struggled to grow sales.
These retailers are trying to sell clothes bought at a time of record cotton prices -- just as most shoppers are shunning anything that's not a bargain.
Cotton prices had rallied to a peak of $2.27 per pound in the first quarter of the year, fueled mostly by tight supplies and robust demand from top consumer China.
Prices have since come down more than 40 percent in the second quarter alone, but that has barely helped retailers, since most of their newly priced merchandise is rolling into stores now.
"Prices are going up anywhere between 10 to 15 percent, the consumer is getting pressured by cost inflation in all the other areas of his or her life and the macro elements are all pointing negative," Janney Montgomery Scott analyst Adrienne Tennant said.
"In the back half of the year, I see cost inflation, I see top line pressure and I see excess inventory ... it definitely could lead to quite a bit of a promotional environment across the space and margin pressure," she added.
"The million-dollar question is, will consumers who bought cotton shirts last year for $19 pay $26 this year?" Britt Beemer, president of America's Research Group, said.
Beemer said a lot of retailers have been forced to take up additional discounts in the recent weeks as macro economic conditions deteriorated.
Learning from past mistakes, clothes retailers have improved inventory management and been smarter with promotions.
That's been good for second-quarter profits, but may not be enough to overcome apprehensive consumers.
Aeropostale, which has lost market share to rivals such as Forever 21 and Abercrombie & Fitch Co, said it expects to earn 9-15 cents a share in the third quarter, well short of the 63 cents it earned last year, and the 30 cents that Wall Street was expecting.
Aeropostale's shares fell over 10 percent on the news.
"Our outlook for the third quarter reflects challenging sales and margin trends, as well as an uncertain macroeconomic environment," Chief Executive Thomas Johnson said.
Cut-price store chain Ross Stores Inc posted a 15 percent increase in quarterly profit, but was cautious on its outlook.
"It is unclear how higher sourcing costs and expected price increases throughout all of retail will impact our business," Ross Stores CEO Michael Balmuth said.
Ross shares dropped 5 percent on Thursday to a 7-month low, while the S&P Retail Index .RLX was down more than 4 percent.
Children's Place Retail Stores Inc, which caters to kids and young-adults, also highlighted concerns over the economy and pressure from rivals' discounting, though it added it expected to grow margins this quarter.
BACK TO PROMOTIONS?
Stephen's analyst Travis Williams said there will soon be a divide between companies that are able to get pricing to work versus those that are going to have to eat some of the costs.
"You will get to see a lot of mixed results in the third and fourth quarter ... a majority of the retailers are going to have a harder time, particularly in the teen space where it is very crowded and has more competition," he said.
On Wednesday, teen clothes retailer Abercrombie & Fitch flagged trouble ahead, saying it was heading into a period of "greater uncertainty".
"Costing issues will certainly impact more significantly in the back-half of the year and the consumer response to price increases remains unclear," Abercrombie's chief Mike Jefferies said.
Analyst Tennant said sticker shock will make shoppers push back on purchases and, in turn, force retailers to start deeper discounts.
"It only takes one significant player of size, say a Gap Inc or a Wal-Mart Stores Inc ... to start the promotional cadence and they drag the rest of the sector down with them."
(Reporting by Nivedita Bhattacharjee; Additional reporting by Arpita Mukherjee, Meenakshi Iyer and NR Sethuraman in Bangalore; Editing by Saumyadeb Chakrabarty and Sriraj Kalluvila)
© Thomson Reuters 2023 All rights reserved.