Can't decide which handbag to buy? Rent it first
SINGAPORE, March 22, 2009 (AFP) - A Louis Vuitton bag, diamond-inlaid guitar, Gucci shades and a dog. Total cost? Less than 1,000 Singapore dollars (654 US). The catch is, you're only renting.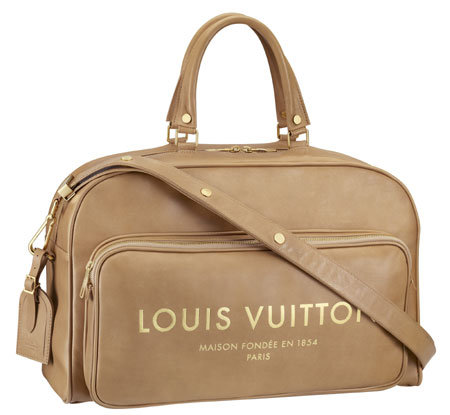 Model from the new "Panama Flight Bag" collection by Louis Vuitton
As consumers scrimp to survive the worst global economic crisis since the Great Depression of the 1930s, Singaporeans are increasingly turning to Internet-based rental outlets to at least maintain their sense of style, business operators say.
"Just like how local coffee shops can expect better business than restaurants in times of economic turmoil, I believe a guitar rental service would be much appreciated in these times," said Elaine Khoo, owner of Rent-A-Guitar.
Her online company offers electric and classical guitars of various makes as well as amplifiers and guitar accessories for just one dollar per item a day -- with a deposit, of course.
Although not yet able to provide figures, Khoo said she has been "pleasantly surprised" by the response to her service, and said the economic crisis partly inspired her to set up her business in February.
"I see the economic gloom as an opportunity for me to promote a service in which customers pay a smaller amount to rent the guitar rather than buy," Khoo said.
Another rental company that says it is doing well despite the gloomy economy is thatbagiwant.com, which allows trendy customers to rent luxury handbags and sunglasses at prices vastly lower than their retail cost.
"Because of the recession, business has gotten better," said owner Tan Ho Ching, adding that fashion-conscious customers unsure about buying costly bags are now embracing his service to save money.
The customer base for thatbagiwant.com more than doubled in the three months after Singapore, in October, became the first Asian economy to enter recession.
"People who were sitting on the fence are now trying it out, preserving their capital," he said.
Dog-sharing service Easy Dogz has also seen more customers in recent weeks, according to owner Herbert Lim.
The service allows clients to take home breeds including golden retrievers and Jack Russells after paying rent of 30-50 dollars a day on top of a 100-dollar membership fee.
The company has not been adversely affected by the economic downturn, said Lim, and have even received a boost after running ads in a local newspaper.
More conventional rental services also say business continues to be brisk.
DVD rental firm Homepal Private Limited said more people were signing up, with chief executive officer Eric Tham estimating a 10 percent rise in membership over the six months to February.
Homepal allows customers to rent DVDs over the Internet and delivers the movies to their homes by post. Members pay a monthly subscription fee and are allowed to keep the DVDs for as long as they want.
"There's more people staying at home. This is a form of entertainment that is affordable," said Tham.
Games rental company Red Sands Gamers Club also said it membership was up by more than 50 percent since Christmas, and owner Jeffire Yang said this was due to customers' cost-cutting measures during the holiday period.
"I spoke to my customers. They said that they bought (games) consoles instead of travelling overseas (to save money)" which led to increased membership for Red Sand's games rental services, Yang said.
Membership allows members to enjoy discounts on goods and services offered at Red Sands.
Even one of the major players in the local telecommunications market has rolled out a mobile phone plan that is similar to a rental scheme.
MobileOne's Take3 programme allows customers to own new mobile phones at significantly lower prices after subscribing to any of its service plans.
Customers have the option of swapping their phone for another after nine months for a fee, or do the swap at no cost after 20 months.
Under the programme, an LG KF900 Prada II phone would cost 201 Singapore dollars per month, against a purchase price of 1,288 dollars.
"They get to enjoy the use of the latest handsets without paying upfront cost. it is likely to be especially welcome in the current economic crisis," said Geraldine Lai, a spokeswoman for MobileOne.
It's different for Singaporeans with such deep pockets they can still rent an entire island -- and keep it all to themselves.
Indonesian island resort Pulau Pangkil Kecil, accessible by boat from Singapore, can be rented for varying rates depending on the season -- from 2,600 Singapore dollars per night for one to ten people on a normal weekday to 4,500 dollars on selected public holidays when bookings are tight.
The cost covers all meals and use of the island's facilities, which include nine luxury accommodations, a bar, swimming pool, speedboats and more than 20 staff, according to the island's website.
"It's the same as last year, which was one of our busiest years -- people still see us as very good value for money," said a company spokesman.by Philip Lim
Copyright © 2023 AFP. All rights reserved. All information displayed in this section (dispatches, photographs, logos) are protected by intellectual property rights owned by Agence France-Presse. As a consequence you may not copy, reproduce, modify, transmit, publish, display or in any way commercially exploit any of the contents of this section without the prior written consent of Agence France-Presses.