Camel milk: put it on your face as well as drink it
By Pascal Fletcher
NOUAKCHOTT (Reuters) - With its hunched back, protruding teeth, facial hair and distinctive body odor, the camel may not seem an ideal model for beauty products.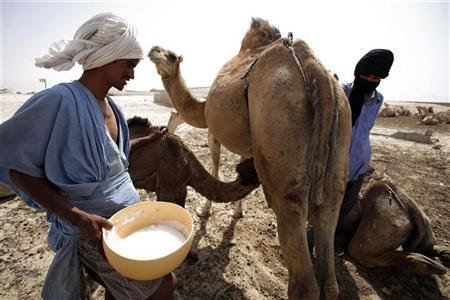 Think again, says Nancy Abeiderrahmane, who runs a camel dairy in the Saharan state of Mauritania and says vitamin-rich camel milk can cleanse the body both inside and out.
"It does give you a nice complexion," says British-born Abeiderrahmane, who in 1989 opened Africa's first commercial camel milk dairy, now called Tiviski, in Mauritania's capital Nouakchott.
With the dairy already producing a range of camel, cow and goat milk products in a nation where nomadic livestock rearing is a way of life, the Spanish-trained engineer is now looking at the possibility of making camel milk cosmetics.
"We would make creams and soaps," said Abeiderrahmane, who has lived in Mauritania for 30 years and is a citizen of the former French colony lying on the Sahara's western edge.
"I'm thinking very upmarket," she added.
Recalling that Egypt's Queen Cleopatra, a fabled beauty, was said to bathe daily in camel's milk, she said Mauritanian Moorish women still traditionally drank large quantities of this milk to maintain a pale, clear complexion.
"It's a cleaning stuff, it's good for your arteries, it's a diuretic," Abeiderrahmane said.
While stressing that simply drinking camel milk was already an excellent beauty treatment, she said its fat could be transformed into lotions and creams.
A handful of entrepreneurs in the world already made such products, although Abeiderrahmane, an acknowledged expert on camel milk, said she would need to acquire the technical know-how to set up a cosmetics plant at her Nouakchott dairy.
"There is nobody in 600 miles who makes cosmetics," she said, gesturing to the edge of the dusty Mauritanian capital, where rolling sand dunes begin where the buildings end.
SMELLY, BUT CLEAN
Just a few kilometers (miles) away on a sandy roadside, Mauritanian herders, their craggy, weather-beaten faces swathed in turbans, milk a herd of baying, moaning camels.
"They've all got names -- this one's Fatou, that one there is Mariam," said Mohamed Sidi, 40, one of the herders.
They feed the females a hash of cereals and peanuts mixed with water before milking. It takes two people to milk a standing camel, one holding the bowl on one side and the other tweaking the teats of the udder on the other side.
The milker allows the female camel's calf to start suckling, to draw down the milk, and then pushes it away.
Dry camel droppings scatter the sand underfoot and there is a rank, acrid smell of camel urine in the air.
Abeiderrahmane, while admitting camels can be smelly, indignantly denies they are dirty.
"The camel itself is a fussy animal ... it has few germs, few diseases, it's a very clean animal," she said.
Fresh from the udder, camel milk is topped by a thick white froth. It tastes different to cow milk, less fatty and sometimes a bit saltier, and its chemical composition is very different.
"It's quite weird stuff, but absolutely exquisite," said Abeiderrahmane, who drinks a carton a day at least.
"It's very light, its full of vitamins and minerals, it's got a lot of vitamin C," she said.
CAMEL MILK CHOCOLATE
Because camel milk does not curdle easily and is very difficult to skim, it does not yield the same range of products, like ice cream and yoghurt, one can obtain from cow's milk.
But the Tiviski dairy, whose name means Spring in local Arabic, produces a soft camel milk cheese, sold under the brandname Caravane, but dubbed Camelbert by some fans, after French Camembert.
"We're the only people in the world to make it," Abeiderrahmane said.
With no local market in which to sell it -- most Mauritanians don't eat cheese -- she sought and found interest from European gourmet outlets, especially in Germany.
But she quickly ran up against the European Union's barrage of animal health and food regulations, which meant that to this day she is still unable to sell camel milk products in Europe.
"Europe has a big lobby that does not want dairy products ... we're very small to fight the system," she said.
The United Arab Emirates was also knocking on the EU's door to gain entry for camel products. A Vienna-based Austrian chocolatier had a plan for making low-fat chocolate from Emirates camel milk.
Abeiderrahmane said being able to sell camel cheese in Europe would boost her dairy operations, which already provide a livelihood to several thousand Mauritanian families.
Livestock farming makes up 17 percent of the economy in Mauritania, whose mostly nomadic population roam with their herds over the vast desert territory twice the size of France.
"They don't have a fence, a barn among them," said Abeiderrahmane.
She still hoped one day to be able to get her camel milk cheese into the EU legally -- instead of smuggled inside the suitcases of Europeans returning from Mauritania.
"I'm going to keep it like the Vestal fire, you know, keepknow-how the knowhow alive," she said.
© Thomson Reuters 2023 All rights reserved.