Buying Guess still in fashion, despite euro worries
By Nivedita Bhattacharjee and Anurag Kotoky

BANGALORE (Reuters) - A weak euro may continue to trouble Guess Inc's profit in the near term, but the U.S. apparel retailer's attractive valuation and strong fundamentals could translate into a buying opportunity for investors.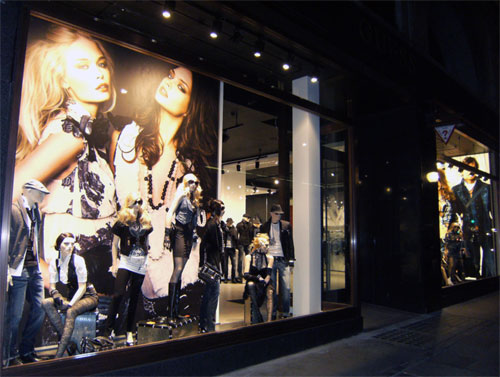 Guess on Regent Street in London
Solid sales growth across the globe will see the retailer through, even as its dependence on Europe, where a debt crisis has dragged down the euro, leaves investors squeamish.
"We see the company as an attractive growth story with a well-diversified business model...Growth names like Guess, selling at attractive valuations, especially after the recent sell-off related to the euro, should soon outperform once again," Jefferies analyst Randal Konik said.
Guess's European segment, which includes the Middle East, accounted for 48 percent of total earnings for the fiscal year ended Jan. 30, according to regulatory filings.
The company, whose advertisements have featured models like Claudia Schiffer and Adriana Lima, saw a 28 percent jump in revenue from Europe for the latest quarter. The company plans to add several key members to its management team in the region.
However, recent European troubles have raised questions about the company's growth potential in the region.
"The concern is not only currency effects, but what the condition in Europe might do to their business," analyst Margaret Whitfield of Sterne, Agee & Leach told Reuters.
"But at least it appears that they have detected no signs of difficulties with regard to the European business so far," Whitfield added.
On Friday 28 May, Guess shares recovered some of their losses from the previous day and mirrored the euro, which gained briefly against the dollar.
Guess shares fell more than 9 percent in late electronic trade Thursday 27 May, after the company gave a weak 2011 forecast and said the euro had now weakened significantly below its planning assumptions.
GUESS STILL IN VOGUE
At least four analysts maintained their top rating on Guess stock on Friday 28 May, and said the current share price did not take into account growth prospects for the company, making it a definite buy.
Guess, known for its sexy jeans ads, currently trades at 12.97 times its 2011 forward earnings, compared to a peer mean of 23.09, according to Thomson Reuters data.
"We believe the current valuation discounts all of the positives of international expansion in terms of material margin and top-line growth potential...we believe Guess remains a superior growth vehicle and we would remain buyers," Brean Murray Carret & Co analyst Eric Beder said. Euro's downward momentum has been gathering strength recently, raising the risk that the single currency overshoots estimates of fair value and hits parity with the U.S. dollar within the next year.
"If the euro goes to parity, there would be a further 18 cents a share hit to earnings. For this to actually occur, however, the euro would have to decline dramatically and immediately, an unlikely scenario in our view," Lazard Capital Markets analyst Todd Slater said.
Investors in Guess are nervous about a possible recession in Europe, but the stock's current valuation represents a major buying signal, Slater said.
Guess, which runs its namesake Guess by Marciano and G by GUESS brands, competes with Levi Strauss & Co, VF Corp and True Religion.
"I think it's attractively valued relative to the sector, keeping in mind the square footage growth potential and popularity of the brand, among other reasons," analyst Brian Sozzi of Wall Street Strategies said.
(Reporting by Nivedita Bhattacharjee and Anurag Kotoky in Bangalore; Editing by Aradhana Aravindan)
© Thomson Reuters 2023 All rights reserved.