Bulgarian valley turns from guns to roses
By Justyna Pawlak
KAZANLAK, Bulgaria (Reuters) - Just as the sun breaks through the mist shrouding Bulgaria's Stara Planina mountains, hundreds of villagers hustle through fields of rose bushes to pick fresh blooms still damp with morning dew.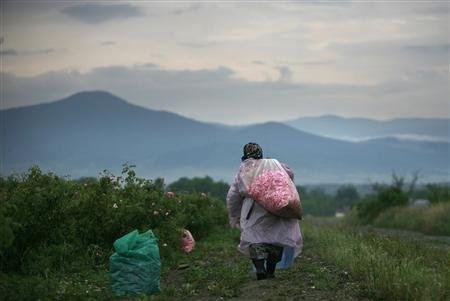 Their tranquil valley in central Bulgaria has blossomed in recent years as European Union cash and a global boom in organic beauty products containing rose oil helped revive their centuries' old industry.
Providing a livelihood for a poor area known for decades for making AK-47 rifles, the region famous as Rose Valley is a source of the edible fragrance capsules popular in Japan and the gentle aromas in therapeutic creams sold in Europe.
It also gives Bulgaria a chance to show its beautiful side as the country struggles with rampant corruption and organized crime, and has potential to attract nature-loving tourists.
With roughly 2 tonnes of annual production, Bulgaria is the world's second largest producer of rose oil after Turkey.
But the villagers' race against the sun to pick the moist, pink flowers that produce the oil is becoming more urgent as they say climate change is making the valley hotter and drier.
"Roses like cold nights, dew in the morning and hot days in spring," said Nedko Nedkov, who runs a research institute on roses and rose oil in Kazanlak. "It puts them under stress and they react by producing oil. The more stress, the better.
"But now, there is not enough dew, sometimes there is none. The roses are becoming too thin."
Bulgaria's rose oil, with its strong aroma that sweetens perfume from brands such as Chanel and Dior, is considered by many in the cosmetics industry to be the best in the world and costs as much as 6,000 euros ($9,413) a kg.
Each spring, hundreds of villagers haul thick plastic bags filled with scrunched-up rose blooms out of the fields and onto trucks that quickly ferry the flowers to distilleries.
The roses are then dumped into vats of water and boiled for hours, with 4 tonnes of petals yielding 1 kg of precious oil. In the 1980s and 90s, when the climate was cooler and the roses more moist, the same yield needed closer to 2.8 tonnes, said Nedkov.
"These bushes are our children. We put a lot of hope into them," said Aiten Topalova, 38, who owns a small field near Kazanlak, the capital of the area known as Rose Valley.
A warm breeze wafted the aroma of roses and chamomile from nearby fields as she pulled blooms out of the prickly bushes shortly after dawn.
ROSE PILLOWS
While roses are still wilting in water vats, exuding an odor that becomes pungent before turning sweet again in the distilling process, oil buyers are already striking deals.
"We've been importing Bulgarian rose oil for 60 years," said Yoshikuni Yamamoto, head of Japan-based Yamamoto Perfumery Co., which imports rose oil for making edible capsules.
"Japanese people are very concerned about their body smell. They swallow one capsule and a week later they smell of roses," he said. "Even their pillows do."
In addition to enriching perfume, rose oil is popular with the cosmetics industry, particularly if grown organically. Brands like Germany's environmentally-friendly Dr. Hauschka rely on its therapeutic qualities.
"The environmental impact is harsher now and people's skin is getting thinner. Rose oil gets rid of irritations," said Antal Adam, head of public relations at Wala Heilmittel GmbH, the firm that makes Dr. Hauschka products.
Industry associations contacted by Reuters could not offer scientific evidence to support this claim, but other makers also say rose oil's antiseptic properties help soften the skin.
Dr. Hauschka's Rose Day Cream, on the market since 1967, has fans among stars such Madonna and Julia Roberts, Adam said: his company encourages farmers in Afghanistan to plant roses instead of poppies, buying up the harvest to curb heroin trade.
"We blend oil from different countries. Like whisky," said Adam. "The stuff from Afghanistan is very promising."
FUTURE OF THE VALLEY
Under communism, the Rose Valley was home to Bulgaria's arms industry and a crucial source of the iconic AK-47, or Kalashnikov, assault rifle to the Soviet bloc.
Since 1989, its now-privatized Arsenal weapons maker, which employs 5,000 people, has won a tender to supply the Iraqi army with light machine guns and makes arms suitable for use by NATO, which Bulgaria joined in 2004.
But orders cannot match communist-era production levels, industry officials say. Roses may be the valley's future.
With its fragrant fields and an idyllic landscape -- scattered with herds of goats and tombs dating back to the ancient Thracian civilization -- the Rose Valley could become a popular tourist destination.
Much like parts of the French region of Provence with their vast lavender fields, it could attract travelers hungry for mellow surroundings and some solitude.
But residents are concerned that a tourist construction boom could overrun the valley, in the way it has recently damaged seaside and skiing areas.
Environmental damage from construction has become a curse of the country's economic development as corruption, murky land deals and lack of oversight plague industry.
"I don't want Bulgaria to freeze up but you see what happened in Bansko and Sunny Beach," said Filip Lissicharov, who runs a farm near Kazanlak, referring to popular Bulgarian resorts crammed with concrete hotels.
Beyond the specter of unchecked construction and climate change, which Lissicharov said has made weather in the valley more unpredictable than ever in recent years, farmers are also struggling with soaring energy costs and labor migration.
Paradoxically, he said, traditional family-based agriculture may be the solution for farmers who need labor at short notice.
Hot weather and decreased rainfall mean fresh blooms have to be picked quicker than before. In season, more than 50,000 pickers are needed.
"There are not enough pickers, workers prefer to work in Germany and France. And small farmers can get their family to pick roses," said Lissicharov.
Foreign cash may also be on its way. Officials from the French town of Grasse, which hosts much of the world's perfume industry, visited Kazanlak in June to discuss joint projects and potential plans by French investors to buy farmland.
The mayor of Kazanlak is also hoping to build a rose oil attraction park to bring in tourists.
For now, the Rose Valley shows a softer side to the country whose corruption and organized crime will be evaluated in a European Commission monitoring report later this month.
"There are at least two different societies in Bulgaria. The one that will be the subject of this report and the one here," said Toon Streppel, a European Parliament official in Bulgaria.
(Additional reporting by Tsvetelia Ilieva and Iulia Rosca; Editing by Sara Ledwith)
© Thomson Reuters 2023 All rights reserved.