Budget retailer Poundland has record year
LONDON | Thu Oct 13, 2011 - Poundland, Europe's biggest single price discount retailer, posted a record year of sales and profit as it continued to prosper in the economic downturn.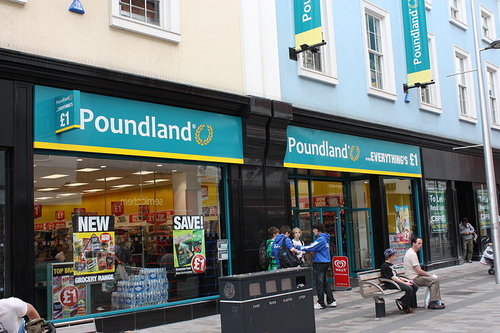 Photo: Ardfern
The firm, which trades from over 360 UK stores, said on Thursday underlying earnings before interest, tax, depreciation and amortisation (EBITDA) increased 34 percent to 31.7 million pounds in the year to March 27.
Turnover (net of VAT sales tax) rose 25.8 percent to 642 million pounds.
Acquired by Warburg Pincus last year for about 200 million pounds from fellow private equity company Advent International, Poundland sells from a range of 3,000 products, including 1,000 branded goods, all at the fixed price of 1 pound.
British retailers are generally struggling as rising prices, muted wages growth and government austerity measures force shoppers to rein in spending on non-essential items.
But Poundland has fared better than most.
"It is clear that the challenging economic climate is set to continue for some time yet and that an increasing number of consumers will continue to seek exceptional value for money," said Chief Executive Jim McCarthy.
The firm is targeting over 50 new store openings in the 2011-12 year. So far 29 have opened.
The firm is also expanding into Europe, with the opening of six "Dealz" stores in Ireland.
Separately on Thursday, British newspapers, books and stationery retailer WH Smith (SMWH.L) posted a 4.5 percent rise in year profit and said it anticipated no let-up in the tough trading environment.
(Reporting by James Davey; Editing by Matt Scuffham)
© Thomson Reuters 2023 All rights reserved.