Britannia rules the retail sales ahead of UK Jubilee
LONDON - Fluttering high above a long stretch of one of London's busiest shopping streets are rows upon rows of festive flags of red, white and blue, in place for British Queen Elizabeth's Diamond Jubilee celebrations.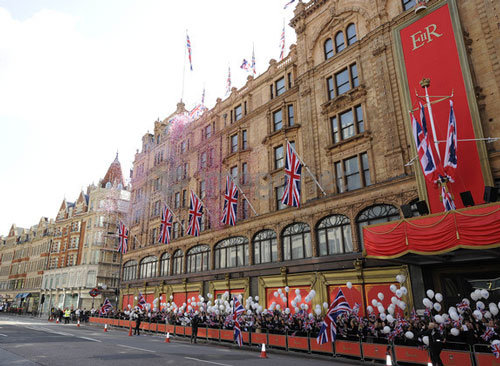 Harrods is decked out with Union Jacks / Photo: image.net
People strolling along London's famed Oxford Street will hardly fail to notice the abundance of bunting, crowns and token corgis on display as retailers clamour to lure customers in with royally British merchandise.
Britons are expected to spend 823 million pounds ($1.28 billion) celebrating Elizabeth II's 60 years on the throne, nearly double what they spent on last year's royal wedding, with 32 percent planning to buy snacks, drinks and decorations to mark the occasion according to research by online comparison website moneysupermarket.com.
"After a battering from bad weather and household finances squeezed by low wage growth and high inflation, retailers are looking for a much-needed boost," said British Retail Consortium Economist Richard Lim.
"The Jubilee has the potential to create a feel-good factor that lifts consumer confidence and persuades people to put their concerns to one side, even if only temporarily," he added.
Tesco, the world's number three retailer, has already sold 93,000 paper crowns and tiaras, 1,5000 miles of bunting and 400,000 Jubilee mugs. The supermarket also expects to sell 2.86 million waving flags by the end of the weekend, which will see a 1,000 boat flotilla on the Thames, a pop concert at Buckingham Palace and a royal procession through London.
"This is the biggest week we have had since the Millennium in terms of party sales with demand far exceeding sales last year's royal wedding and we haven't even reached the weekend yet," Tesco Party Range Buyer Matt Compton said.
"Anything with a Union Jack on it is selling like hot cakes and on our disposable tableware range we have seen an incredible 300 per cent rise in sales on a regular week. And Union Jack cushions are another big seller with nearly 30,000 sold in the last two weeks alone."
The supermarket also expects to sell 25 million units of beer, 1.6 million sausage rolls and 2 million punnets of strawberries.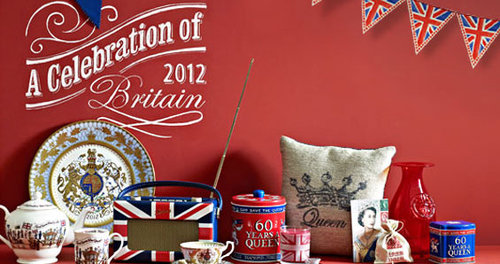 John Lewis's Jubliee range / Photo: John Lewis
Luxury department stores, like Harrods and Harvey Nichols, are also cashing in on the fun, having undergone elaborate royal makeovers as part of the festivities. Ornate golden frames replace Harrods' famous green canopies and best selling items so far include Jubilee mugs and special edition tote bags designed for the event.
"The Diamond Jubilee is a truly British celebration and for most will be a once-in-a-lifetime occasion," said Harrods Director of Store Image Mark Briggs.
High above the crowds of Oxford Street, department store Selfridges has also launched itself into full Britannia mode with a roof top garden complete with carpeted plastic grass, plush blankets along with ornate teacups and saucers.
"I think there's a huge sense of pride and I think that it's a wonderful time to really embrace the royal family and all the tradition and history that we have as a country," Selfridges Head of Press Sophie Hedley told Reuters.
The garden features a nine-hole mini golf course of London landmarks like Big Ben and Tower Bridge in varying pastel cake-forms with softly tinted jellies jiggling promisingly nearby.
Selfridges has also seen a huge demand for anything with the Union Jack and enormous sales for products like bunting and face masks, said Hedley.
"There is definitely an appetite for anything red white and blue."
The four-day jubilee weekend is expected to generate substantial sales of souvenirs as well as food and drink for street parties and London's New West End Company which is responsible for Oxford Street, Bond Street and Regent's Street is expected to welcome more than 2 million visitors to the area.
"We had a pretty tough quarter in UK retail and even in the West End, so this is certainly an upbeat message," Director Jace Tyrrell told Reuters.
"We need some positive sales quite frankly; it's been a challenging time."
© Thomson Reuters 2022 All rights reserved.