Britain's retailers may not strike gold
Any British retailers banking on the London Olympics persuading consumers to spend freely again could be left disappointed.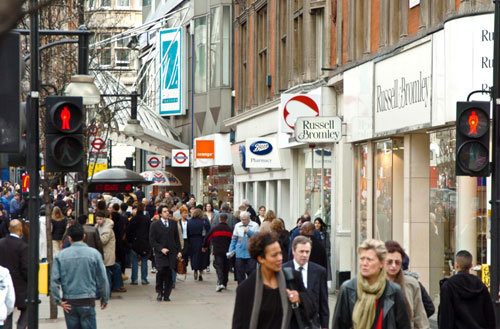 Photo: Pixel Formula
Earlier this year several major stores groups, including Marks & Spencer, J Sainsbury and John Lewis earmarked the first Olympics on UK soil for 64 years as a major opportunity for a fillip to sales.
Yet the financial stresses of recession, coupled with an absence of public holidays and unhelpful weather patterns, mean any boost may be muted.
"I don't think it will bring much (of a boost)," said Neil Saunders, managing director of retail consultancy Conlumino, arguing the impact will be much less than provided by Queen Elizabeth's Diamond Jubilee in early June, mainly because no public holidays fall within the July 27 to August 12 period of the Games.
"The Jubilee was very much about the fact people had an extra day off. A lot of people used that day to celebrate with family and friends and that has a very tangible effect on food sales, because a large part of the celebration is eating and drinking," said Saunders.
"The Olympics isn't like that really. Whilst people will take a passing interest, I don't think it's the type of event that will effect consumption habits."
For many major retailers, the London Games, along with the Jubilee and the Euro 2012 soccer championships, provided a glimmer of hope that recession-weary consumers would be encouraged into a more positive frame of mind.
What's more, the Olympic effect could be magnified by the suspension of rules restricting shopping hours on Sundays, in an attempt to help retailers make the most of the quadrennial event.
CLEAR WINNERS
Last week Visa Europe, a Games sponsor, forecast an 800 million pounds ($1.3 billion) uplift in consumer spending over the seven-week period spanning the Olympics and Paralympics.
"Most retailers will benefit," said Steve Perry, the firm's chief commercial officer, who anticipated an uplift of more than 2.5 billion pounds by 2015.
Obvious winners will be those retailers selling Olympic- themed merchandise and those directly associated with the Games such as John Lewis, official department store provider to London 2012. "We're nothing but positive about it," said Andrew Murphy, retail director at the employee-owned chain.
"When you engage with the Olympic footfall numbers and particularly if you are a sponsor business, the multiples for the four weeks around the Olympics are really phenomenal, almost scarily so, based on previous Olympics," he said.
Supermarkets' sales could get a lift if Britons celebrate the Games with barbecues and parties and splash out on meat, salads, beer and wine.
And with the Games expected to provoke a rise in sports participation, sporting goods retailers Sports Direct, JJB Sports and JD Sports Fashion are pretty much guaranteed to benefit both in the short and long term.
Also retailers with stores at Stratford City, Europe's biggest urban shopping centre which lies on the edge of the Olympic site, should get a boost, given that Australian developer Westfield reckons about 70 percent of the Games' estimated 10 million visitors will pass through it.
Yet with Britain's economy mired in recession and consumers holding back spending because of meagre wage increases and government austerity measures, the potential boost to spending from the Games may have been exaggerated.
LESS SHOPPING
While the Jubilee looks to have provided grocers with a decent sales boost, some analysts reckon the lift from the four-day holiday weekend at the beginning of June did not reach anticipated heights as heavy rain put a damper on celebrations.
Simon Wolfson, chief executive of Next Plc, Britain's second-biggest fashion retailer, is cautious.
"On the one hand it will be a great boost for Britain, there will be lots of tourists, but they'll mainly be in the southeast. On the other hand, there's a possibility people may spend less time shopping and more time watching the TV," Wolfson said.
There is also the prospect that an influx of foreign tourists will be offset by Londoners exiting the capital, escaping the risk of transport disruption.
Some analysts reckon a far more important factor in driving retail sales growth this summer would be some better weather, noting last year's good spring weather, coinciding with a royal wedding, significantly buoyed retail sales.
"If retailers could choose good weather or an Olympics I think they'd choose the good weather, because they would know that that would have a much more tangible effect on their sales," said Conlumino's Saunders.
But after the wettest April and June on record and forecasts of more unsettled conditions in July and August, retailers would be foolish to count on any improvement.
And as far as the wider impact of the Games on the UK economy is concerned, many economists reckon they will provide only a temporary boost to growth before their impact fades.
As Nick Moon, managing director of GfK NOP Social Research, noted: "The stagnant level of consumer confidence suggests that the public is stuck in a period of constant depression."
© Thomson Reuters 2022 All rights reserved.