Brazil pays for inequality with violence
By Raymond Colitt
RECIFE, Brazil (Reuters) - A stone's throw from a pristine beach where foreign tourists sip caipirinhas, relatives wait at a morgue to recover the bodies of nearly two dozen people, the aftermath of a typical weekend of violence in the port city of Recife.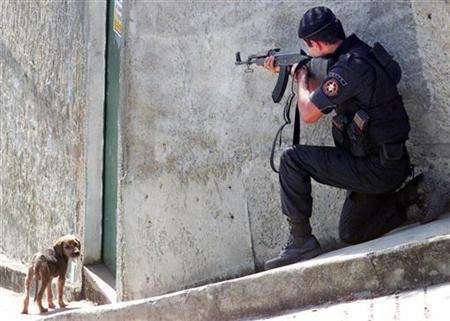 With around 80 homicides a year for every 100,000 people -- twice as many as the worst cities in the United States -- Recife, in northeastern Brazil, is the bloodiest city in a country that is going through a particularly bloody period.
Dozens of high-profile killings over the past year in Recife and around Brazil have made violence a prime public concern, and the one that President Luiz Inacio Lula da Silva is most often criticized for. Ninety-one percent of Brazilians say violence has increased in recent years, according to a poll in April.
Experts say the main culprit is the huge gap between rich and poor. Brazil ranks 10th among countries with the worst income distribution, according to the 2006 UN Development Report.
"Violence is the price Brazil pays for social injustice," said Jayme Benvenuto, coordinator of the human rights group Gajop in Recife.
Brazil has not fought a war with any of its neighbors in over a century, but the silent war at home kills 45,000 people a year, making it the fourth most violent country in the world.
In cities and towns, the poor want a taste of the elite's ostentatious lifestyle that they see on television.
In a Recife court one recent day, Juvenile Judge Humberto Vasconcellos asked a teenager why he assaulted a motorist near the Coque favela, or shantytown. "I wanted money to eat at Burger King," the teenager replied.
In the countryside, the poor compete with big farming and mining concerns for land. Disputes are often settled with guns.
In a case that drew international attention in 2005, U.S. nun Dorothy Stang, who had worked for years to help peasants in the Amazon, was murdered on a jungle track in Para state in northern Brazil. The men who said they carried out the killing said they were hired by local ranchers.
She was just one of dozens of victims of violence in the countryside, including land activists and environmentalists.
A security apparatus focused on political repression instead of common crime -- a legacy of the 1964-85 military dictatorship -- has allowed bank robberies, assaults, and drug trafficking to explode in Latin America's largest country.
In one of the worst incidents, a wave of gangster attacks paralyzed the financial capital Sao Paulo for several days last May and led to about 200 deaths.
"In the 20 years since the dictatorship, Brazil failed to build a public security system fit for democracy," Public Security Secretary Luiz Fernando Correa said.
In Recife, underpaid and corrupt police officers cause as much violence as they repress, experts say.
"Policemen do bank robberies and kidnappings, either they take a cut or do it themselves," said a former police officer, who asked to remain anonymous. "When someone doesn't pay, they take him out."
Police and crime are so entwined that authorities often couldn't tackle crime if they wanted to.
"Before sending the troops on a mission, I have to check who is on my side," said Romero Lucena de Menezes, security secretary of Pernambuco, the state that includes Recife.
Violent crime is spreading to smaller cities. In Ribeirao, a town of 42,000 inhabitants southwest of Recife, the closure of a local textile company and sugar refinery has exacerbated economic hardship, giving rise to prostitution and drug abuse. The homicide rate is similar to Recife's.
The local prison is packed, a fourth funeral home is opening, and police have ordered a curfew in one neighborhood.
In Pernambuco state, only 2 percent of homicides are tried, a level of impunity that fosters more crime.
"I have over 100 unsolved murder cases and no means to investigate them," said Fernando Machado, head of Ribeirao police, which has one functioning car and a tight gas budget.
While some state governments, which are responsible for public security, are beginning to tackle crime more seriously, violence is out of hand.
It was a hot issue in last year's presidential election campaign, although no candidate, Lula included, came up with a thorough long-term plan.
The breeding ground for urban crime is often in favelas with inadequate housing, water and other basic services. Only more economic growth and basic public services can eradicate the origin of crime.
"Most people here just want a job," said Marilla Fatima Santos, tending her bullet-riddled grocery store in Coque, the favela near Recife.
But for many teenagers in the neighborhood, any help may be too little too late. In Coque, kids kill for control of strategic points to assault motorists.
During a break from a soccer game, barefoot 12-year-old Tiago said: "I'm saving to buy a gun."
(See also: "Brazil violence spreads to war of soap operas"; "Rio violence is war with 'no truces"'; "Timeline of violence in Brazil")
© Thomson Reuters 2022 All rights reserved.