Bold steps needed to revive high streets: BRC
Radical action including the creation of enterprise zones, the compulsory purchase of derelict stores and rent-free deals, is required to revive the UK's ailing high streets, the head of the British Retail Consortium (BRC) said on Tuesday.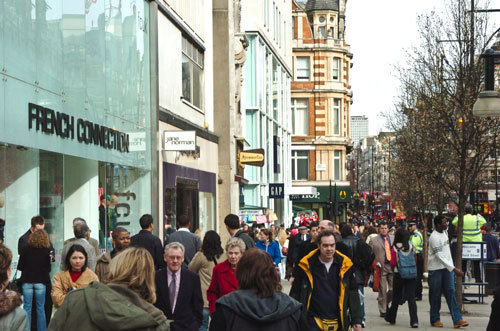 Photo: Pixel Formula
"We all want our high streets to be regenerated, we want them to become thriving places that customers want to go to, but it needs bold action," Rob Templeman, the former chief executive of department store Debenhams who is now chairman of the retail lobby group, told delegates at the Retail Symposium 2012.
He said the relaxation of planning constraints, better car parking and transport infrastructure, and safer, cleaner streets would also make a big difference.
Templeman was critical of a government-sponsored initiative involving Mary Portas, a retail expert and TV personality, that made 28 recommendations to revive high-street fortunes, with some towns chosen for pilot regeneration schemes.
"We think they (the recommendations) were positive in parts but really lacked the bold vision to make a significant difference to their high streets," he said.
"When you propose projects with 11.5 million pounds of funding across 12-15 towns, that is not much good when you have just charged retailers 350 million pounds extra for rates," he added, a reference to an increase in business rates from April.
"We need government to stand up and actually do something positive about getting growth," he said. Britain slumped into its second recession in four years between October and March.
About two-thirds of Britain's GDP is generated by consumer spending, and Templeman said the government should do more to help retailers.
The government has, however, announced a number of schemes aimed at supporting lending and infrastructure spending, while the central bank has indicated another cash injection to support the economy could be on the way.
And on Tuesday, chancellor George Osborne said he would freeze a planned rise in fuel duty this year to help reduce costs for businesses and families.
Many British retailers remain under pressure as consumers' disposable incomes are squeezed by higher prices, muted wage growth and government austerity measures designed to cut record national debt of 1 trillion pounds.
"Looking forward I think it is still going to be tough, the austerity measures from Europe are still going to impact on our businesses over here," said Templeman.
Some retailers are pinning their hopes on a boost from the London Olympics in July and August, and the Paralympics in August and September.
Also speaking at the Retail Symposium, Steve Perry, chief commercial officer of Visa Europe, forecast an 800-million euro (639.3 million pounds) uplift in consumer spending over the seven-week period spanning the Olympics and Paralympics.
"We think most retailers will benefit from it," he said.
© Thomson Reuters 2023 All rights reserved.