Black-and-white haute couture for pandas' sake
BEIJING (Reuters) - Pandas turned from China's national icon into a fashion statement as New York designer Vivienne Tam showcased black-and-white outfits at a Beijing show to raise funds for the endangered animal's quake-stricken habitat.
Tam, who was born in China, created five one-off outfits, ranging from a full-length gown, short, flirty Flapper-style dresses and a chic pant-suit, which were auctioned off for about 190,000 yuan ($27,800).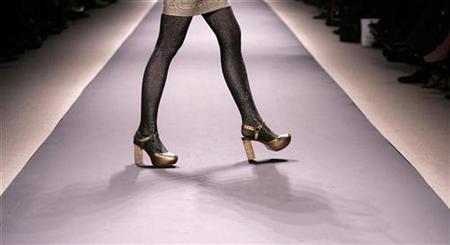 Each outfit featured a panda motif and the proceeds will go to the ravaged Wolong Panda Reserve in southwest Sichuan province, which was hit by a devastating earthquake in May last year which destroyed at least 8 percent of the animals' habitat.
"I would love to raise some money to save the pandas. That is our campaign. Save a lot of money to help them. And I think it's a very good cause and also it's a good karma and afterwards we will save people too," said Tam.
Pandas are regarded as China's national symbol, fondly known as China's "little ambassadors" and the fate of the quake-hit pandas has been closely followed by the national media.
Wolong Panda Reserve lies just 30 kilometers away from the earthquake's epicenter, deep in Sichuan's mountains, and many buildings were destroyed and several frightened pandas escaped into the wild.
Bidding at the Monday night fashion show was brisk, with buyers seemingly unfazed by the global economic crisis.
Tony Leung, a Canadian businessman based in Beijing, bought a dress for 40,000 yuan but admitted he had no one in mind to give it to. "When I can, I will present it to somebody. That's what I paid for," he said.
Tam's fundraiser follows a November fashion show by Italian designer Donatella Versace in Beijing which raised over $100,000 for survivors of the Sichuan earthquake.
The quake killed more than 80,000 people and left over 5 million people homeless.
(Reporting by Reuters Television, writing by Miral Fahmy, editing by Sanjeev Miglani)
($1=6.836 Yuan)
© Thomson Reuters 2023 All rights reserved.