Bidders contest Filene's bankruptcy auction result
By Chelsea Emery
NEW YORK, June 9 (Reuters) - Several rival bidders for bankrupt retailer Filene's Basement are contesting the results of its auction, saying the $67 million winning bid for the company from Men's Wearhouse (MW.N) was improper.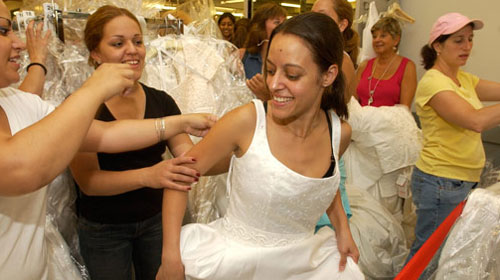 Filene's Basement's famous 'Running of the Brides'
Crown FB LLC, which had offered to buy some of the assets of Filene's Basement, filed an objection in a Delaware Bankruptcy court on Tuesday 9 June saying that Men's Wearhouse should not be allowed to win the company.
The auction on June 5 was not run in accordance with bid procedures and was a "travesty," Crown said in the filing.
Marcy Syms, the CEO of off-price retailer Syms Corp (SYMS.O), another bidder for Filene's Basement, also filed court papers claiming that Men's Wearhouse had not complied with the bidding rules set by the court and the process was "abused."
Representatives for Filene's Basement and Men's Wearhouse were not immediately available to comment.
Filene's Basement filed for Chapter 11 bankruptcy protection on May 4, and planned to sell all or part of its assets as part of the bankruptcy proceeding, according to court documents. Crown was chosen as the "stalking horse" bidder after offering to purchase the trade name and leases for 17 stores, but not the inventories, for about $22 million. In bankruptcy auctions, the stalking horse bidder typically makes the lead bid at the auction and sets a floor for the bidding.
But an affiliate of Men's Wearhouse, K&G Acquisition, won the auction after offering $67 million for 17 store leases, inventory from all of its locations, leases for the company's headquarters and the trade name.
Crown said, however, the Men's Wearhouse bid should not have been accepted because it was tendered after the bid deadline, among other objections.
A group consisting of Syms Corp and Vornado Realty Trust (VNO.N) had also submitted a competing bid for the assets of $33.25 million plus 70 percent of the cost value of Filene's Basements inventory, according to court papers. An inventory liquidation bid had also been submitted by Gordon Brothers Retail Partners and The Nassi Group.
Neither of the rival bidders said in court papers whether they were considering raising their bids for Filene's Basement, but Syms said the Men's Wearhouse bid contains various extra costs to the company's creditors and "countless contingencies" that reduce its value.
The winning bid is subject to a hearing on June 10.
The case is In re: Filene's Basement Inc., U.S. Bankruptcy Court, District of Delaware, No. 09-11525. (Reporting by Chelsea Emery, additional reporting by Emily Chasan, editing by Maureen Bavdek and Carol Bishopric)
© Thomson Reuters 2022 All rights reserved.