Because the guys are worth it, too
PARIS - "Asian men are just crazy about this," purred the saleswoman, cradling one of her most popular products in her palm.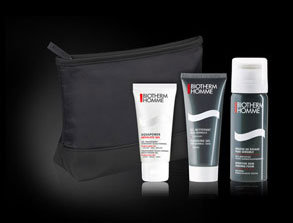 Biotherm Homme range / Photo: Biotherm
It's a Primrose Facial Cleansing Masque she sells in the Aesop beauty shop on Paris's Rue Saint Honoré, costing 36 euros ($46.55) for 120 milliliters, enough to buy dozens of bars of soap.
It "works wonders" for men in cities like Beijing, where the air can be steamy and grimy in the summer, she says.
Boutiques like Aesop and big multinationals such as L'Oreal, Estee Lauder and Unilever are finding that men, especially Asian men, are increasingly willing to shell out sizeable sums to take care of their skin.
Sales of men's facial products still make up only a small fraction of the $97 billion global skincare market, but it's a growing fraction, despite the economic slowdown. Last year, skincare sales to men rose 17 percent to $2.4 billion, and 83 percent of that growth was in Asia.
"I was struck when I came to China by how uncomplicated and 'no-taboo' the attitude was," said Alexis Perakis, L'Oreal's China manager.
"I want to feel good and look good and be groomed, so I use products," is the no-nonsense Chinese male approach, he says.
While much of the increased demand is from China, where men buy mass-market brands like L'Oreal's Garnier in supermarkets, South Korea is driving sales of specialty products.
"South Korea is setting the trends for men's grooming," said Nica Lewis, a retail analyst at Mintel International. "Asia looks to the Korean boy bands, who are handsome, with great hair and skin. Perfect teeth. Portraits of health and vitality."
In South Korea, the largest market in the world for men's skincare, she said men were also starting to use BB cream, a type of anti-blemish product with a light tint that crosses into make-up territory.
In India, men are beginning to use skin whiteners, which reduce the amount of melatonin in the skin, with L'Oreal's Garnier and Unilever's Vaseline giving some local brands, long used by Indian women, a run for their money.
Companies say European and American men, however, still favor a more rugged look.
"Asian men strive to look refined and educated because a professional appearance for work is important ... The western European man's routine is primarily for himself, his wife and his family," said Jennifer Bremner, Unilever's global director for Dove Men+Care.
BIG BRANDS
Unilever launched its Dove men's line in 2009 and has moved into 40 countries. Bremner said it was important to develop products specifically for men, such as the soap bar the company says it refashioned to fit the different dimensions of men's hands.
Unilever is aiming for a broad market. Recent ads for the Dove men's line have shown U.S. basketball player Shaquille O'Neal talking to his mother. After the trials of growing up with an odd name, he says he is now "definitely comfortable in my own skin".
L'Oreal has also renewed its push into men's products, hiring actor and comedian Hugh Laurie as its frontman.
"He appeals to men and women," said Arnaud Jeanteur, deputy general manager of L'Oreal Paris.
If the popular 52-year-old Laurie is comfortable dabbing on the products, it gives permission to others to follow.
To translate these efforts into sales at the beauty counter, the companies have another hurdle to clear. Retailers say men in the United States and Europe are still uncomfortable walking up to a counter they associate with women's products and buying an expensive lotion or cream, even if it is marketed to them.
Brands like Australia-based Aesop try to overcome that reticence by projecting a unisex image, with Scandinavian wood accents, chanting monks on the sound system and white and black bottles.
Online sites like the UK's Mankind.co.uk can spare men's blushes altogether. The success of online sales helped the European market for men's skincare, the second largest in the world behind Asia, manage slight growth in 2011, unlike other European retail segments.
PROOF OF PURCHASE
"The market is increasingly sophisticated ... and nowadays men either have money or they don't," said Robert Johnston, associate editor at GQ magazine. "The ones that do are willing to spend it on themselves. But they want to look under the bonnet. They want to know it works."
"Men want proof," agrees L'Oreal's Jeanteur. "They need to be convinced."
A good dollop of marketing helps, too.
L'Oreal has branded an eye cream made by Biotherm Homme with the action-man title High Recharge Eye Shot.
Estee Lauder borrows on the imagery of the science laboratory and the doctor's surgery with its Lab series and Clinique men's line, both in unfrilly black and white packaging.
It remains to be seen whether the dark arts of marketing will tempt many men into the luxury cream market, where women can spend 300 euros on a tiny pot that promises to take 10 years off their face.
Family-owned French beauty company Sisley is banking on it with its recently launched Sisleyum, a men's face cream in a 50 ml jar priced at 150 euros.
That's 15 euros per teaspoonful to your average Joe.
© Thomson Reuters 2023 All rights reserved.