Beauty shines through gloom for Asian department stores
By Rhee So-eui and Jungyoun Park - Analysis

SEOUL (Reuters) - Department stores in Asia that have managed to capitalize on trend-conscious consumers willing to spend on elegance and beauty are ringing in the sales as the region's economy recovers.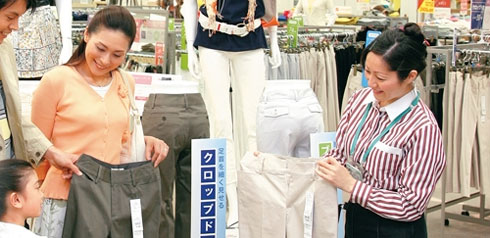 Photo: www.7andi.com
In contrast, the ones not using luxury to tempt shoppers look much more vulnerable to cheaper alternatives.
The post-crisis strategy for department store operators like South Korea's Lotte Shopping (023530.KS), Hong Kong-listed Parkson Retail (3368.HK) and Japan's Isetan Mitsukoshi (3099.T), is how to fend off cost-competitive rivals from discount stores to Internet shopping in the battle for consumer wallets that have been fattened up by government measures to stimulate the economy.
Despite the downturn, Asia's department store shares still outrank lower-end retailers in valuation, a sign investors see stronger earnings recovery as regional economies turn around.
Asia-Pacific department stores trade at average 39 times of their forecast earnings, compared with 20 for supermarket and convenience store chains, according to Thomson Reuters data.
In China, Taiwan and South Korea, where expensive tastes accompany a rising middle class and asset prices, department stores are associated with brand-name cosmetics and luxury.
"Although the economy is bad, people still want to look good. They'll rather spend money on their face and body to look young, and wear cheaper clothes," says Shauna Lee, a marketing executive at Taipei's Shinkong Mitsukoshi department store, where throngs of shoppers enjoy the annual sale promotion with shopping vouchers from the government.
In South Korea, August department store sales from top players Lotte Shopping, Shinsegae (004170.KS) and Hyundai Department Store (069960.KS) rose at the fastest clip in seven months, with consumer sentiment at a seven-year high. Cosmetics, luxury items and premium health foods are consistent leaders.
Shares in Hyundai, more focused on upscale shoppers than its peers, have jumped 85 percent this year while 27 out of 37 analysts surveyed by Thomson Reuters I/B/E/S rate the stock a "buy" or "strong buy."
China's retail sales posted 15 percent growth in the first three days of the October 1-8 "golden week" holidays. The downturn has done little to dent demand for designer handbags and watches, a survey from market research firm Pao Principle shows.
As China's urbanization and growing wealthy consumer class fuel demand, brand recognition is helping high-end retailers. Department store chain Golden Eagle (3308.HK) shares have more than doubled this year and 18 out of 20 analysts recommend buying the stock.
"The right strategy for department stores is to go even more upscale," said Hyundai Securities analyst S.K. Lee. "Those with money keep spending on beauty products and luxury goods."
Shinsegae constantly renews its luxury items offering to compete with specialized stores around Seoul.
"We were able to post fairly strong earnings thanks to the robust sale of luxury items and cosmetics ... And wealthy consumers' royalty to our groceries section is extremely high," said Shinsegae spokesman Kang Sang-min.
Top Thai department store operator Central Pattana (CPN.BK) plans to add eight stores a year for six years from 2011.
"There is a sign of an industry pick-up and we're not stopping ourselves from expanding," CFO Naris Cheyklin said.
For some Asian department stores, expansion means potential mergers and acquisitions -- Lotte Shopping is mulling whether to buy Chinese supermarket operator Times Ltd (1832.HK) as it seeks a strong brand in a fast-growing market.
JAPAN STORES STRUGGLE
In Japan, however, a prolonged retail slump is weighing on upscale retailers, hit by the impact of deflation and job losses.
"Specialty stores like Uniqlo and Nitori are attracting customers. Department stores have failed to respond to changing consumer trends," said Naozumi Nishimura, analyst at a research firm TIW in Tokyo.
Sales at Japanese department store chains, including Isetan Mitsukoshi, J.Front Retailing (3086.T) and Takashimaya (8233.T), marked the 18th straight month of year-on-year decline in August. Those top chains' shares are mostly rated at "hold."
"As for consumer spending, tough times are likely to continue for a little while," said Takashimaya President Koji Suzuki.
"We have been working on structural reform and stepping up marketing efforts, but we cannot make up for falls in sales in this tough economic condition."
Asian retailers in general have still fared better than Western peers as their economies avoided the worst of the fall-out from the financial crisis. High-end retailers in the United States and Europe, including Saks (SKS.N), Nordstrom (JWN.N) and PPR (PRTP.PA), have been hit hard by weak sales and consumer focus on value.
The question now is whether Asia's high-end retailers can sustain the upturn once stimulus measures are removed. Monetary tightening has already begun in Australia, South Korea is expected to hike rates early next year, while many other governments are cautiously discussing exit strategies.
In Taiwan, shopping vouchers equivalent to 0.7 percent of the island's GDP were offered and almost all of them used.
Government cash handouts have also helped Australia's department store chains David Jones (DJS.AX) and Myer post resilient sales. David Jones shares have more than doubled from a low in March, but analyst opinions on the stock have moved toward "underperform" in the past three months.
An upcoming initial public offering by Myer, Australia's biggest department store chain, could test investors' confidence in retailers.
Although growth in consumer spending across Asia is expected to dip this year, it is forecast to continue its upward trend in the next two years, underpinning the region's department stores.
"I know there is a crisis, but things seem much better now," said Chen Yi, a Beijing housewife shopping with her son at upscale shopping mall "The Place."
© Thomson Reuters 2023 All rights reserved.