Bargain hunters boost French summer sales
PARIS, Aug 3 (Reuters) - French shoppers and tourists, lured by bargain prices for clothes, shoes and other apparel helped boost summer sales by 5 percent compared with last year, officials said on Tuesday.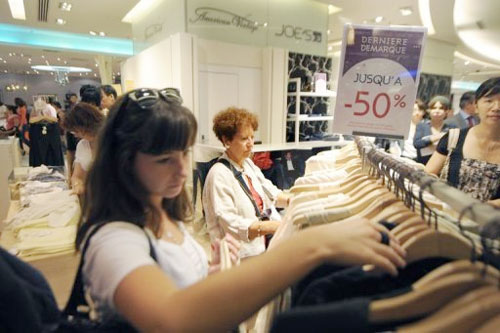 Photo : AFP
Aided by sweltering weather and a recovery in the euro currency, consumers were attracted by deep discounts ranging from 30 percent to 90 percent offered by shops in the five-week sales period between June and July, the commerce ministry said in a statement. It did not give further details.
At department store Galeries Lafayette's 10-storey Paris flagship, summer sales -- which make up 13 percent of its annual turnover -- rose 15 percent from a year earlier, helped by an increased number of tourists.
"We benefited from very favourable weather. It also helped that we had large discounts, and there was an influx of tourists in Paris, because we are also a national monument," said Philippe Houze, president of Galeries Lafayette group.
Houze said the main store in Paris attracted more than 12 million tourists each year and foreign clientele represented nearly 55 percent of the store's turnover.
Though consumer spending, the motor of France's roughly 1.9 trillion euro economy, fell unexpectedly in June, the summer sales figures could boost the data for the months ahead.
France's Commerce Secretary Herve Novelli said summer sales figures in 2010 would be better than 2009 and 2008, just before the global financial crisis deepened, as consumers are slowly starting to spend more despite lingering concerns about unemployment.
French consumer confidence in July remained near historically low levels, while business confidence recovered to its highest level since July 2008.
(Reporting by Bate Felix and Veronique Tison; Editing by Susan Fenton)
© Thomson Reuters 2023 All rights reserved.