Australia wool prices surge as drought spooks buyers
By Michael Byrnes - Analysis
SYDNEY (Reuters) - Australia's wool market, the world's largest and a main source for the global flood of Chinese textile exports, has surged to its highest point in years as a worst-in-a-century drought shrinks supplies and alarms buyers.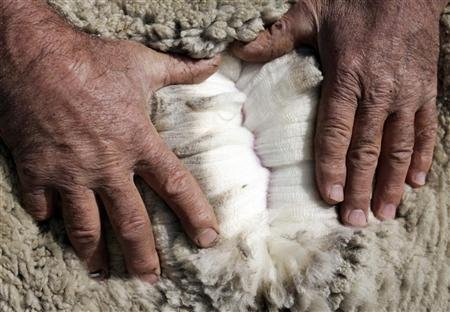 Prices have been rising since sales resumed three weeks ago after a year-end recess, taking the main price guide, the Eastern Market Indicator, up 30 percent in the past three months.
Shortages are seen emerging in the current January to July selling period, and continuing into 2008, even if the drought breaks soon, which will keep prices high.
"There is great concern in the wool-buying and processing community about a shortage of wool," said Peter Morgan, executive director of Australian Wool Industries Secretariat, which serves the export industry.
A downturn in prices this week is seen as a correction blip in a strong market run that began in late 2006, with prices still up about 10 percent this year.
The price rise means long-suffering wool growers, squeezed for years by a long-term price decline as world fashions turned against wool, are looking forward to their first fat cheques in years.
"It's a hell of a boost. We're flat out spending money to keep stock alive on feed and plant and machinery and labour," said woolgrower Tony Morrison from his 1,600-hectare property near Goulburn, southwest of Sydney, where he runs 7,500 sheep.
PRICE PEAKS
Before a nearly 4-percent downturn to 926 cents this week, Australia's wool price indicator had risen to 962 cents a kilogram, heading towards the peak of 1,189 cents in January 2003 -- the highest since the Australian Wool Exchange indicator system was introduced in mid-1995.
In U.S. dollar terms, which sets real returns for the A$2.5 billion (1.01 billion pounds) a year export industry, prices are already at 10-year highs.
Analysts see the market staying strong. Growing fears about declining supplies by importers, particularly largest buyer China are adding extra zest to a strong market already fuelled by international demand.
"I would expect that if demand remains strong, we will see very keen bidding in the auction room," Morgan said.
With 100 million sheep -- five for every person -- Australia is the largest wool exporter in the world, far ahead of other export nations New Zealand and South Africa. Blips in Australian wool production have a worldwide impact on the textile trade.
Australia's prolonged drought is shrinking wool production because farmers unable to afford the expense of hand feeding are sending stock for slaughter, while hungry sheep produce less wool.
The industry consensus is that Australian shorn wool production will fall 15-18 percent in the next five to six months because of drought.
A recent survey by marketing body Woolmark of 270 companies found the strongest demand in the global textile trade for wool in five years, together with a rundown in stocks.
High prices are beginning to draw extra supplies from on-farm stocks, but this is not seen outweighing drought production cuts.
Analyst Paul Deane with industry marketing body Woolmark Co. expects increased volatility in the wool market.
"We are in uncharted waters in U.S. dollar terms," he said.
Morgan points out that Australian wool prices, which finished this week at 926c per kg, are still below the 2003 peak of 1,189c -- even if prices in U.S. dollars are higher than in 2003.
Meanwhile, growers are beginning to see an end to a crippling financial plight caused by drought which has further dried out the driest inhabited country in the world.
"I'm pretty optimistic that things are going to improve," Morrison said from his farm. "I'd be looking towards a big autumn so that we can cash in on the stock that we've got."
The El Nino weather condition, which triggered Australia's latest drought from abnormal sea temperatures in the Pacific, is widely believed to be breaking down.
What farmers want now is actual rain, and lots of it.
"It's been tough in the last five years ... It's the worst. But we've still got the opportunity to make a quid if things turn around," said Morrison.
($1=A$1.28)
© Thomson Reuters 2023 All rights reserved.