Australia's Woolworths sees tepid profit growth, shares drop
August 25 - Woolworths Ltd , Australia's largest retailer, warned there are no signs of a recovery in consumer spending and tough conditions will crimp profit growth in 2012, sending its stock down 5 percent.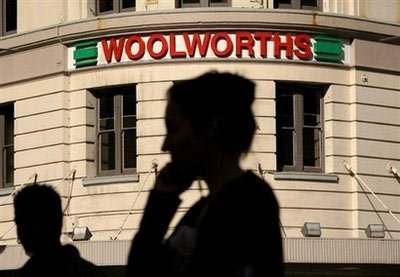 Woolworths in Sydney - Photo: AFP/File/Greg Wood
Australian retailers have been forced to deeply discount stock and accept shrunken profit margins as consumers respond to economic uncertainty and falling home and share market values by freezing spending.
Consumer confidence fell to a 2-year low in August and retailers say the unprecedented worsening in sales has shown no improvement in recent weeks.
A number of Australian retailers have failed this year, including clothing and footwear retailer Colorado Group, women's clothing group Bettino Liano and Borders bookstores.
Woolworths said net profit growth would be limited to between 2 percent and 6 percent in fiscal 2012, below analyst forecasts.
"It's a low growth company at the moment and it's likely to be that way for the next 2 or 3 years," said Don Williams, chief investment officer at Platypus Asset Management, which once had a large chunk of its funds in Woolworths but sold the last of it about 12 months ago.
"The issues for Woolies aren't going to go away in the next year or two and we just don't think it's investable at the moment."
Higher savings by households and weak consumer confidence, particularly in recent months, were likely to continue to restrict earnings growth, Woolworths said.
"The guidance is lower than we've had in previous years on an ongoing business basis," said outgoing Woolworths Chief Executive Michael Luscombe, who is due to retire after 34 years.
Sales had been trending in a similar vein from May to August, Luscombe said, telling analysts that "consumers stopped dead" around mid June, and it had been tough.
"We have to be honest with people and there are all the signs that consumers are saving and not spending. To be overly optimistic at this time would not be keeping the market informed," he said.
"We don't see any signs to say there's been a reawakening (in spending). The right guidance is this is going to be a tough year for retailers," he said.
Australia's central bank, which has kept interest rates unchanged since raising borrowing costs to 4.75 percent in November, will provide an update on Friday when Governor Glenn Stevens speaks to politicians.
Consumers have reacted to rising mortgage stress and pressure from petrol and utility costs by hoarding savings and demanding deep discounting from retailers.
TOUGH YEAR AHEAD
"To stand here and be optimistic about the Australian consumer in the absence of any evidence would be misleading the market," Luscombe said.
"This is going to be a really tough year for all retailers here and in New Zealand."
Luscombe will be replaced on Oct. 1 by Grant O'Brien, the firm's chief operating officer for food and petrol business.
Department store Myer has predicted a challenging period and rival David Jones also saw "extremely difficult" conditions while forecasting a fall of up to 20 percent in net profit in the first half of 2012.
But Wesfarmers , owner of Coles supermarkets, said the tendency to save was "not a bad thing."
"This is not a disaster. This is a more challenging time," Wesfarmers CEO Richard Goyder said last week while unveiling a 21 percent rise in earnings at Coles for fiscal 2011.
"Policy makers have been banging on for years about Australians needing to save more, and we're doing that," he said.
Woolworths said start-up costs of up to A$100 million for its new home-improvement business Masters would hurt 2012 earnings.
"We're not in a great environment for retail generally which does affect some of the businesses, and people will be disappointed with the guidance," Platypus Asset's Williams said.
Woolworths, which owns electronics chain Dick Smith, said net profit was A$2.124 billion ($2.228 billion) for the year to June, up from A$2.02 billion a year earlier, at the bottom of its forecast for 5 percent to 8 percent growth.
Australian food and liquor earnings rose 7.5 percent for the year. Earnings at Big W fell 11.5 percent for the year, but rose 5.7 percent in the second half.
Consumer electronics earnings in Australia and New Zealand fell 27 percent for the year.
Woolworths faces an additional headwind from rival Coles which has had a successful turnaround strategy that attracted shoppers back into its supermarkets.
Shares in Woolworths fell below A$24 to the lowest in almost three years earlier this month and were down 5.6 percent at A$25.75 at 0352 GMT. The stock traded above A$30 in October.
Shares in Wesfarmers gained 2.6 percent in a broader market up 0.8 percent.
(Editing by Ed Davies, Michael Smith and Vinu Pilakkott)
© Thomson Reuters 2023 All rights reserved.