Australia's Westfield to spin off $12 bln in assets
SYDNEY/MELBOURNE, Nov 3 (Reuters) - Westfield (WDC.AX), the world's biggest shopping mall landlord, plans to spin off half of its Australian and New Zealand property assets to create a new $12 billion fund, partially reversing a 2004 move that met with only limited success.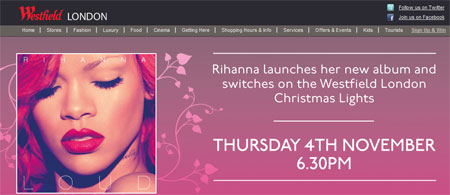 Westfield London shopping centre
The new fund, to be owned by the group's shareholders and new investors, will offer a simpler, geographically focused investment with steady rental income, leaving Westfield Group as a growth stock with mall development income and offshore risk.
Investors welcomed the move, which would put Westfield's well-performing local malls in a new separately listed vehicle, the Westfield Retail Trust (WRT), but some were unsure if it would boost the total value of the group as planned.
"While it may or may not create instant value for Westfield shareholders, what it does do is improve the choice for investors who can now allocate between the two vehicles," said Brett McNeill, investment manager for Aviva Investors Australia Ltd.
In 2004, Westfield merged Westfield Holdings, Westfield Trust and Westfield America Trust to become the world's largest retail group by market value. Its scale allowed the firm to pursue major acquisition opportunities back then.
But Westfield shares have dropped 22 percent in the last five years though they traded at a near-10 percent premium to its NTA.
After the global property meltdown and financial crisis, simply structured trusts with low gearing are back in vogue.
WESTFIELD'S VALUATION GAMBLE
The new trust will have a half interest in a portfolio of 54 shopping centres, mostly Australian malls that rank among the group's best-performing assets.
Under the plan, Westfield will first distribute A$7.3 billion ($7.3 billion) worth of its equity in the portfolio to its own shareholders in the form of securities in the new trust, which will then raise another A$3.5 billion in new share capital.
That would leave the trust with A$10.8 billion in equity in a portfolio worth A$12.2 billion, leaving it lightly geared and able to pay a superior distribution to its owners.
The A$3.5 billion in new money would be raised from issuing securities to new public investors, as well as existing Westfield shareholders, at A$2.75 each, representing a discount on net asset value and offering a distribution yield of 6 percent.
Standard & Poor's immediately signalled a possible downgrade to Westfield's 'A-' long-term credit ratings, noting that the group was reducing its exposure to its high-quality domestic assets and raising its reliance on U.S. and UK assets.
Fund managers expect to see pressure on Westfield's shares after the spin-off because index managers will not have to hold as much of the stock and predicted the Westfield Retail Trust would trade at a discount to net tangible assets (NTA).
Currently, Westfield is the only Australian real estate investment trust (REIT) to trade at a premium to NTA.
"By pulling the business apart, I wonder if that premium will remain," said Jason Teh, portfolio manager at Investors Mutual.
Currently, index fund managers have to own Westfield because it is so dominant in the Australian REIT sector .AXPJ and figures among the top stocks in global REIT indices, Teh said.
Fund managers said Westfield Retail Trust was likely to trade below NTA but at a smaller discount than local peers such as CFS Retail Property Trust (CFX.AX) which trades 9 percent below NTA.
Westfield Retail Trust's offer of new shares are being priced at a 14 percent discount to NTA, leaving some room for gains on their listing debut. Some investors could decide to trim holdings in REITS like CFS to buy into the Westfield Retail Trust.
DEAL FEES
But the big share-offering coincides with another major call on capital: Australia's A$4 billion-plus sale of shares in coal haulage business QR National, due to be listed this month.
Total transaction costs for the latest demerger and capital-raising are estimated at A$230 million before tax, including A$119 million in stamp duty to government.
Citigroup, Credit Suisse and Morgan Stanley are acting as advisers, bookrunners, underwriters and joint lead managers to the current offer. Deutsche Bank, JP Morgan, Merrill Lynch, Royal Bank of Scotland and UBS are acting as equity adviser to Westfield Retail Trust and joint lead managers to the offer.
Westfield Group shares were placed on trading halt on Tuesday ahead of the announcement and will not resume trading until Monday, after the institutional part of the share sale closes.
($1=1.001 Australian Dollar) (Additional reporting by Michael Smith; Editing by Mark Bendeich and Muralikumar Anantharaman)
© Thomson Reuters 2022 All rights reserved.