Australia's David Jones says 2012 guidance in jeopardy
August 11 - Australia's biggest department store, David Jones, warned on Thursday that its 2012 earnings guidance was in jeopardy after reporting a 10 percent fall in fourth-quarter sales and noting that its new year had started poorly.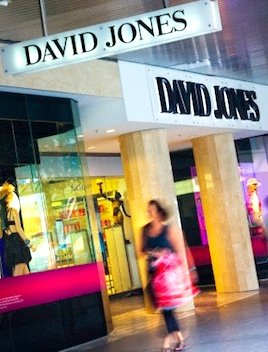 David Jones department store in Melbourne - photo: corbis
David Jones Chief Executive Paul Zahra said the retailer faced an "extremely difficult" environment and said guidance for a decline of 15 percent to 20 percent in net profit for the first half of 2012 had assumed a sales rebound after July.
"It was based on the assumption that there would be an improvement," the company said in a statement.
"It is still early days however, with the turmoil in the market place and the continuing decline in consumer confidence, to date first quarter 2012 has shown no improvement," it said.
The stock fell 4 percent to A$2.68 in early trade, underperforming the wider market but it stayed above the three-year low it touched during Tuesday's heavy markets sell-off.
Australian consumer confidence fell for a fourth straight month in August to hit a two-year low. See . The nation's central bank has acknowledged the struggles of the non-mining sectors, due in part to a high Australian dollar and a string of rate hikes from late 2009 to November last year.
Rival department store retailer Myer Holdings also described near-term conditions as challenging on Wednesday.
David Jones had warned of an 11 percent drop in fourth quarter sales on July 13 after what it said was an unprecedented decline in transactions.
Leakage to offshore online retailers, encouraged by the strong local currency, and lower sales to tourists have also weighed on the business.
David Jones shares plunged last month after it said its second-half profit was set to drop by 9 percent to 12 percent and its first-half 2012 net profit could fall as much as a fifth versus a year earlier. .
David Jones is due to report its annual profit results in late September.
Retail analysts say customers of David Jones, which stocks international brands and luxury food produce, are more sensitive to recent weaker house prices and share values than the customers of other retailers.
Retailer Harvey Norman, which hit its lowest since 1998 on Tuesday, surged 8.9 percent on Wednesday after it reported sales down 3.9 percent in the fourth quarter, a smaller drop than seen in both of the previous two quarters.
Shares in shopping mall owner Stockland Group fell 3.6 percent in a rising market on Wednesday as it warned of flat earnings in the year ahead as shoppers stay out of malls. See.

(Reporting by Miranda Maxwell; Editing by Mark Bendeich)
© Thomson Reuters 2022 All rights reserved.