At 37, super-model Moss says she's "going with the flow"
Mar 30 - After two decades of fast living, British super-model Kate Moss says motherhood and creative work with major fashion brands have helped usher in a more mellow phase of life, though she's still haunted by existence in a celebrity bubble.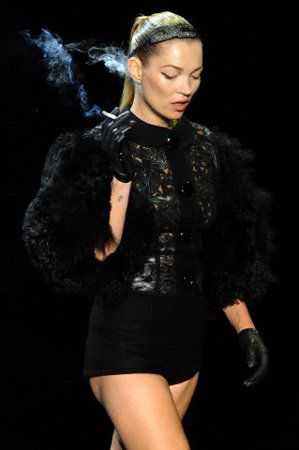 Model Kate Moss on the runway at Louis Vuitton's fall 2011 show.
"I'm paranoid," she said. "Paparazzi are a nightmare. "I don't think you ever get used to some man hiding in a bush ... It's unnerving to be watched all the time," said the blonde 37-year old on Tuesday, in Hong Kong to launch an Asian flagship store for French handbag label Longchamp. A doyenne of the fashion world after breaking onto the catwalk as a precocious and chain-smoking British teenager with attitude, Moss has weathered a string of scandals and remains a favorite of leading houses like Dior and Louis Vuitton. She was photographed allegedly snorting cocaine at a party over five years ago, and smoked a cigarette on a Parisian catwalk this year, drawing the ire of anti-smoking advocates. Asked about her endurability in such a fickle industry, Moss eased back into a plush green sofa in her harbor-view suite and said: "I haven't got a plan ... I just take it as it comes."
Longchamp's founding Cassegrain family enlisted Moss to design several lines of leather bags, drawn by the model's hip, inimitable personal style and naturalness. "What she brings to the brand is maybe a touch of rock and roll," said Sophie Delafontaine, artistic director of the leading French bag maker which forecasts 2011 sales to rise than 10 percent, helped in part by Moss's endorsement. "She's very near to her customer because she's active, she's working, she has a kid, she's traveling, she's sometimes casual and sometimes she's very chic and glamorous." The brand, which bears the logo of a jockey on a racing horse, enjoyed a strong rebound in 2010 with sales up over 23 percent, helped in part by Moss's star allure. Moss, who has dated and partied hard with rock stars such as Pete Townsend and is about to marry Kills singer Jamie Hince, may now be entering a more mellow phase of life.
Having officially left catwalks seven years ago, Moss strutted the runway at Louis Vuitton's show at Paris Fashion Week this month. She is also the face of Yves Saint Laurent's La Parisienne perfume, launched in 2009, and Christian Dior's new lipstick Dior Addict. Despite her diversifying career, she said it was premature to start thinking about her own brand just yet, given the demands of family. "I'm just kind of going along with the flow," said Moss, dressed in an elegant black dress, black tights and black heels.
"I'm still modeling a lot so I kind of don't really want to say I'll do this, and this, and this. I keep mixing it up."
She is, however, keen to launch a children's line of clothing, inspired by her own young daughter. "When she has an outfit on, I've copied things of hers that I wanted made into grownup size," said Moss. "She's got better style!"

(Reporting by James Pomfret; editing by Elaine Lies)
© Thomson Reuters 2023 All rights reserved.