As gold prices surge, cash-for-gold frenzy fades
August 12 - Handing out flyers at the corner of 47th Street and Fifth Avenue in New York City's Diamond District, Mariabi Peenya is having trouble finding passersby eager to sell their gold jewelry for cash.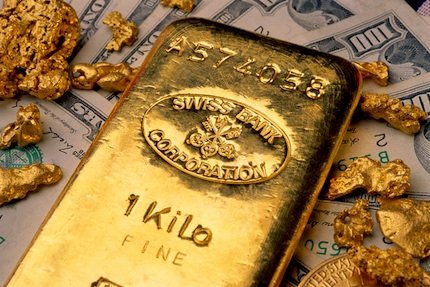 "We Buy Gold" signs are commonplace in windows of American main street stores. - photo: corbis
In Mexico City, Paulino Luna says fewer customers are coming to his small storefront in a colonial-era building, where he's been buying bullion for 25 years. And in Chennai, India, Daman Prakash Rathod finds the once-heaving crowd of local gold scrap sellers have all but disappeared.
Across the globe, the latest surge in gold prices -- up as much as 20 percent since June as investors seek refuge from stock market turmoil and sovereign debt crises -- is failing to lure as many people into selling their gilt mementos, heirlooms and dusty family jewels as during the 2008 financial crisis.
The success of massive cash-for-gold industry over the past three years, urging people to sell their gold, means there are fewer and fewer people with any "old gold" left.
Anyone who cashed out when gold prices spiked in 2008 missed a three-year bullion boom in which prices doubled. Now with the U.S. Federal Reserve having pledged two years of near-zero interest rates, the rally in gold prices shows no sign of slowing. But it seems those people who still have gold may be holding out for even higher prices.
"It's nothing like it was in 2008," says Peenya as he flagged passing New Yorkers, promising his price was best. "Either people are waiting till the price hits $2,000, or they are running out."
The implications of a dwindling supply of "scrap" gold, that which isn't mined, may hit the global bullion market even harder than it hits local pawn shops. Worldwide, recycled gold usually meets 40 percent of demand. But that share is now declining just as demand for physical bullion surges anew from investors and central banks. That may be yet another reason to expect gold prices to rise even further.
"The fact that scrap is not reacting as strongly as one might have expected to the stimulus of higher prices suggests those higher prices are more sustainable and price growth is easier," says Philip Klapwijk, executive chairman of respected metals analytics firm GFMS Ltd, a unit of Thomson Reuters.
Gold prices breached $1,800 an ounce for the first time this week, having almost tripled from its 2008 lows of $680.
"The easier-to-let-go stuff has been let go, so it gets progressively more difficult given the move in the price to stimulate the same growth in scrap," Klapwijk said.
In 2009, scrap supply surged by 30 percent to a record as consumers rushed to sell anything they had, both to turn a fast buck on a booming market and to cushion the blow of recession.
In the years since then, large amounts of recycled gold flooded the physical market. But growth has slowed sharply as people either run out of things to sell, or wait for higher prices. Klapwijk expects recycled gold to grow by only about 5 percent this year.

CASH-FOR-GOLD PART OF U.S. CULTURE

The trend is perhaps most notable in the United States, which contributes about 10 percent of global scrap supply. Last year scrap supply was 143 tonnes -- equivalent to more than 10 million wedding bands. Some of that recycled gold also comes from industrial sources such as computer motherboards.
Unlike some nations such as Turkey and India, where recycling jewelry has been commonplace for decades, most Americans had been unaccustomed to the idea of selling off old jewelry. Then a network of cash-for-gold businesses popped up after 2008, thanks to the almost constant television and radio advertisements by pioneers such as Cash4Gold.com.
Now, "We Buy Gold" signs are commonplace in windows of American main street stores.
Gold recycling in the United States reached its climax when a Cash4Gold ad featuring rapper MC Hammer aired during the 2009 Super Bowl, said Michael Toback, a board member of the 47th Street Business Improvement District in New York, who also owns jewelry refiner Myron Toback.
In Manhattan's bustling Diamond District, many jewelry vendors say Americans may sell their remaining gold if economic conditions worsen. But many interviewed by Reuters agree that business has slowed by as much as a third from past year.

EMERGING ECONOMIES SLOW DOWN TOO

The change in psychology is evident elsewhere too.
"I think everybody is still bullish about the market. They don't want to sell for the time being," says Hong Kong-based Dick Poon, manager at Heraeus Precious Metals, a German company that is a leading global metals dealer and refiner.
In the historic center of Mexico City, several streets are crowded with kiosks where people line up to sell gold chains, medallions, earrings or bracelets for cash. Vendors weigh it all on simple scales. But Luna says business is drying up.
"People don't have their parents' or grandparents' gold anymore, they've sold it," said Luna. "We are not seeing the same amount of volume that we saw before, every day there is less, of both gold and silver."
And in the country which consumes more gold than any other, India, where gold jewelry is a central part of the culture from weddings to holidays, reselling gold has become a rarity.
"The selling crowd has disappeared," Daman Prakash Rathod of gold wholesaler MNC Bullion said by telephone from Chennai.
Watching friends and neighbors rue their decisions to sell at $1,000 or $1,200 or even $1,500 an ounce, he reckons other Indians have learned a lesson.
"The excessive scrap that used to come a few years ago has stopped, and people who have sold must be cursing themselves for doing so at lower prices."
© Thomson Reuters 2023 All rights reserved.