Artist Baldessari takes fashion to extreme at Prada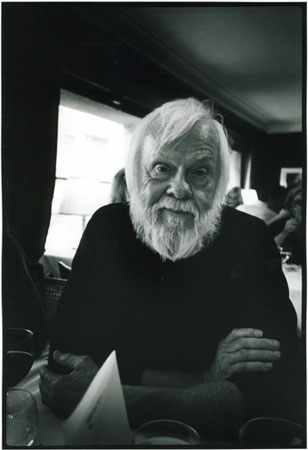 John Baldessari
(Reuters Life!) - American artist John Baldessari has pushed the fusion of art and fashion to a new level with an exhibition of oversized mannequins inspired by famous sculptures and adorned like catwalk models.
The show, "The Giacometti Variations" at the Prada Foundation in Italy's fashion capital of Milan until December 26, features nine emaciated sculptures, each 4.5 m (14 ft 9 in) high, dressed in colorful clothes and ironic accessories designed by Baldessari.
Lined up between concrete columns, the slender bronzed statues are inspired by surrealist Swiss artist Alberto Giacometti. They dominate the minimalist space where trend-setting designer Miuccia Prada usually holds her packed fashion shows.
"Giacometti's figures are the most skinny and emaciated sculptures that exist. Why not push that further?" Baldessari said in a statement. "Furthermore, it is au courant, almost de rigueur, that fashion models be extremely tall and thin."
The 79-year-old conceptual artist -- who has won worldwide praise for his colorful creations and was feted by a retrospective which opened at New York's Metropolitan Museum of Art last month -- paid tribute to the rapidity with which fashion trends are consumed.
"There currently is a blurring of art and fashion," he said.
The nine statues will wear 18 different outfits as the Milan exhibition unfolds. References include film stars such as Marilyn Monroe and Humphrey Bogart as well as bronze ballerinas by French impressionist artist Edgar Degas.
Baldessari adorned his mannequin statues with clothes and objects including a hot-pink bow in satin, a trench coat, a pair of long blond tresses, and the burning pyre of Saint Joan of Arc.
The Los Angeles-based artist said the idea of tall sculptures arose because most galleries, unlike fashion show salons, have walls tailored to collectors' houses.
(Reporting by Antonella Ciancio, Editing by Paul Casciato)
© Thomson Reuters 2023 All rights reserved.