Army, war victims in focus at fashion week
By David Lalmalsawma

NEW DELHI (Reuters) - Designers put the spotlight on the army and victims of war on the closing day of India's biggest fashion event on Monday 29 March, paying tribute to causes close to their heart.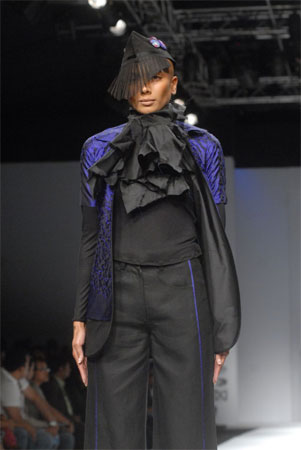 Rahul Reddy at the Wills Lifestyle India Fashion Week - Photo: www.wifw.indiatimes.com
Ritu Beri's Autumn/Winter collection at the Wills Lifestyle India Fashion Week opened with four soldiers parading down the catwalk and models dressed in military-inspired coats and double-breasted jackets walking to the music of a marching band.
"I don't think they (army) get enough thanks," said Beri, the daughter of an army man.
In a show dedicated to the military, Beri herself walked the ramp in a red and white velvet dress -- showstopper for a collection that included dresses and skirts in cashmere wool, silk velvets and denims.
Earlier on Monday 29 March, designer Rahul Reddy dedicated his show to the victims of war.
Models wearing black military caps walked to the sounds of gunshots for a collection that included dresses, skirts and pants in black, blue and purple.
Unlike the others, designer Rahul Mishra's 'Butterfly Effect' collection was about the effect of man's action on the natural world.
"The collection is about the last hundred years of the journey of human beings, from flowers to concrete jungles," said Mishra, who used only natural fabrics for the collection.
The designer included white silk and cotton dresses embroidered in black to include man-made and natural forms like buildings and flowers.
© Thomson Reuters 2022 All rights reserved.