Andrea Canè: "We are just about to sign a deal with an American jacket brand"
The Bologna, Italy-based company WP Lavori in Corso, worldwide licensee for Woolrich, has purchased the historic Baracuta bomber jacket brand, the first collection of which will be presented at Pitti Uomo this Tuesday. Creative Director Andrea Canè explains the strategy of the group, which is celebrating its 30th anniversary this year, and announces the addition of a new brand to the company's portfolio.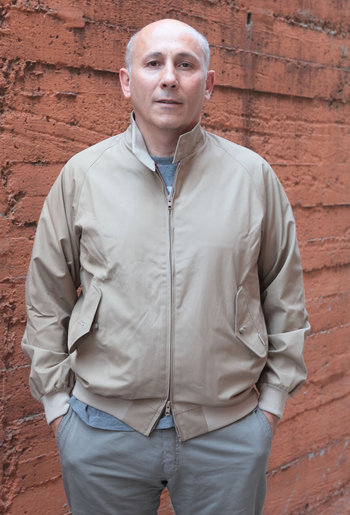 Andrea Canè, Creative Director, WP Lavori in Corso
FashionMag: How has WP Lavori in Corso developed these past 30 years?
Andrea Canè
: I founded the company with the Calori family owners in 1982. We started out as distributors. We were pioneers, importing historic English and American brands, first to Italy and then to Europe. We then acquired licenses, such as the worldwide license for the American label Woolrich or the English Barbour brand of outerwear, for which we hold the distribution license for Italy. We have always favored brands with a real tradition that maintain a unique product in terms of image and manufacturing without ever falling prey to "fashion." Retailers really want reinterpretations of historic products. We have also acquired brands such as the American shirt label Bd Baggies, the Italian 1920s cashmere label Avon Celli and Baracuta. The idea is to maintain a good balance between licenses and brand ownership that gives us greater freedom of action.
FM: Are you planning another acquisition following Baracuta?
AC
: We are just about to sign a deal with a traditional American bomber jacket brand that will be directly managed by our subsidiary there. The project is expected to be formalized in 2014. We are in the process of repositioning ourselves in the U.S. with a more top level distribution. It is a very complex market that requires large investments and where one has to have high visibility. Since we already hold other American brands, we just purchased a building in New York on Bond Street where we are setting up our offices and a WP store. We currently have a dozen WP stores just in Italy where we are selling all our brands, in addition to the specific single brand stores for each brand.
FM: What do you have planned for Baracuta?
AC
: For the first collection being shown in Pitti and probably for a few more seasons, we are going to concentrate exclusively on upper outerwear pieces — the true core business of the brand — which we would like to rejuvenate through the use of sturdier fabrics and original details. The collection is organized along three categories: the Ivory Label, a slightly more commercial line designed by an in-house team; the Blue Label, a capsule collection designed by the stylist Kenichi Kusano, former creative director of the Japanese label Beams Plus; and two iconic Baracuta models, the G4 and G9 jackets that will be made in England.
FM: Have you been affected by the crisis?
AC
: We achieved sales of 110 million euro in 2011, which will remain stable in 2012, 40% of which came from abroad and enabled us to withstand the crisis. In Italy, retail stores are in a lot of trouble. Distribution is still fragmented and the sector is really suffering. We prefer to sell less there, but better quality. Abroad we are especially particularly present in Southern Europe, Scandinavia, German-speaking countries and in the U.S. and Japan. By September we will open our first Woolrich store in Seoul, Korea, and we are also in discussions with a Chinese partner to open a store next year. In France, we have been carried for one year now by a new partner, Robert Dodd, who has scheduled the opening of a Woolrich boutique in Lille in the fall. Otherwise, we have 2,000 multi-brand clients in Europe, 1,000 of whom are in Italy and 500 throughout the world.
Copyright © 2023 FashionNetwork.com All rights reserved.