All Inditex brands to open e-boutiques
Starting Sept. 6, shoppers from 15 European markets will be able to buy online all Inditex brands: Pull&Bear, Massimo Dutti, Bershka, Stradivarius, Oysho and Uterqüe. Zara's e-commerce platform launches on Sept. 7 in the US nationwide.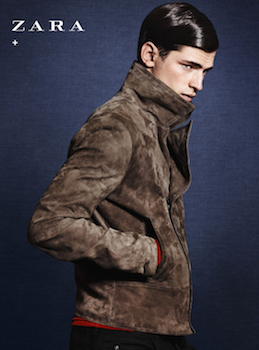 Zara campaign for Men AW 2011-12
The online stores will go live simultaneously in 15 European markets. The countries which will offer online sales for one or more of these concepts are: Austria, Denmark, France, Germany, Ireland, Italy, Monaco, Netherlands, Norway, Poland, Portugal, Spain, Sweden, Switzerland and the UK. Following in the footsteps of Zara and Zara Home, which launched their online shopping sites in
2010 and 2007, respectively, the concepts will progressively add more markets to their online platforms.
The launch of their online platforms also marks the start-up of business operations for a number of these concepts in some of these countries. And so Pull&Bear, Stradivarius, Oysho and Uterqüe will make their market debuts in Germany. The latter chain will also enter the French, Swiss and British markets for the first time, alongside Oysho in the case of the UK. Massimo Dutti, meanwhile, which is set to launch online sales in a total of 13 markets, will make its first foray into Austria, Denmark and Monaco.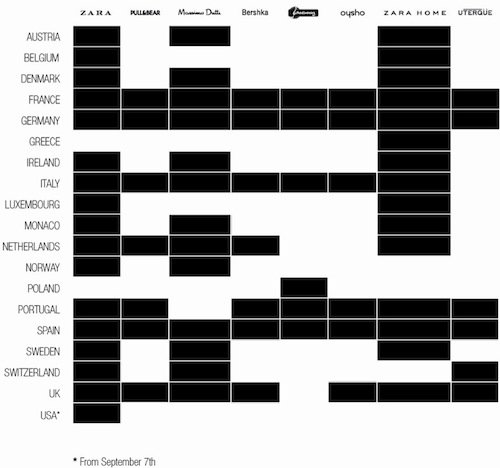 Inditex's online platform by country
Online shopping prices will exactly match store prices. All the concepts will offer attractive shopping terms, providing the choice between free in-store pick-up and standard or express home delivery. The 30-day free exchange and return option which comes with store purchases will similarly extend to online purchases.
In the run-up to the launch, the various concepts have pursued a range of instore and social network customer awareness campaigns. The online channel, meaning both the websites themselves and the social networks in which the concepts are active, is a very important communication forum.
Back in 2007, Zara Home was the Group's first concept to move online; today
its online footprint extends to 15 markets. Zara entered the world of ecommerce
over one year ago and currently offers online shopping in 16 countries. Zara is scheduled to launch its nationwide US online sales platform on 7 September.
Copyright © 2023 FashionNetwork.com All rights reserved.