African Diamonds sees equity/debt to fund new mine
LONDON, Dec 15 (Reuters) - African Diamonds (AFD.L) has cut the cost of the first phase of its new AK6 mine in Botswana to 30 million pounds ($48.86 million), and may fund it about 60 percent from debt and 40 percent through equity, the London-listed firm said on Tuesday 15 December.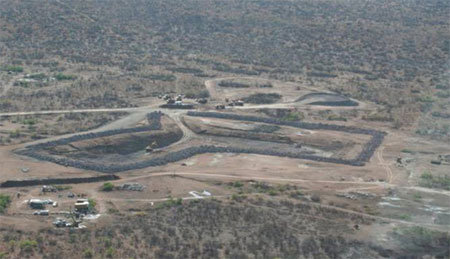 African Diamonds AK6 mine - Photo: www.afdiamonds.com
African Diamonds currently owns 29 percent of the AK6 project, which is due to launch production in 2011, and has an option to increase that to 40 percent.
The cost of building the mine has fallen since Nov. 11, when the firm pegged the cost of the first phase, which will allow output of 400,000 carats per year, at $63 million.
"Due to low operating costs in Botswana, a scaled down capital cost, a distribution of large stones, and the presence of the rare and valuable Type II diamonds, AK6 has the potential to generate significant profits," Chairman John Teeling said.
The AK6 mine is later due to expand production to 1 million carats a year.
De Beers, the world's biggest diamond producer and 45 percent owned by mining group Anglo American (AAL.L), was the previous partner in the AK6 mine but sold its 71 percent stake to Canada's Lucara Diamond Corp (LUC.V) last month.
De Beers had wanted to delay building the AK6 mine, estimating that it would cost $300 million, African Diamonds said.
"Our mine may not have the glitz and glamour of the De Beers proposal, but it will work," Teeling said.
The company and Lucara were currently looking at how to finance the mine and had several options, the company said.
"Early stage indicative offers of project finance were received by African Diamonds," it said.
"Assuming 60 percent debt finance and 40 percent equity, African Diamonds may have to subscribe for about 5 million pounds in equity in mid to late 2010." ($1=.6140 pounds) (Reporting by Eric Onstad; Editing by Mike Nesbit)
© Thomson Reuters 2022 All rights reserved.