Africa Israel sells two malls to Melisron
TEL AVIV, April 7 (Reuters) - Africa Israel Properties (AFPR.TA) said on Tuesday 7 April it agreed to sell its stakes in two shopping centres in the Tel Aviv area to Melisron Ltd (MLSR.TA).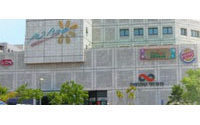 Savyonim Mall, Israel
Africa Israel Properties, a subsidiary of Israel-based real estate developer Africa Israel Investments (AFIL01.TA), said it will sell its 73.4 percent stake in a company that owns the Ramat Aviv mall and its 100 percent stake in the Savyonim mall.
Africa Israel said the sale values the two properties were 1.74 billion shekels ($417 million) and it will receive 800 million shekels after tax for the sale of its stakes. It will not post a capital gain or loss on the sale.
The deal is subject to regulatory approval.
Izzy Cohen, chief executive of Africa Israel, said the sale was part of its strategy to increae liquidity in light of the global financial crisis.
The company has said it planned to generate cash to meet its financial obligations by selling off assets and refinancing bank loans.
Last month Africa Israel reported a fourth quarter loss of 2.69 billion shekels in the wake of a sharp drop in the values of its properties in the United States and Russia.
Africa Israel Investments, controlled by billionaire Lev Leviev, has interests in real estate, energy, hotels, fashion and infrastructure.
It is the parent company of AFI Development (AFIDLq.L), a Russia-focused real estate firm.
Melisron is controlled by the Ofer brothers. ($1 = 4.17 shekels) (Reporting by Tova Cohen; Editing by Hans Peters)
© Thomson Reuters 2022 All rights reserved.