Afghan TV set to unveil model contest
By Sayed Salahuddin
KABUL (Reuters) - Weary of Afghanistan's image as a country in chronic conflict with a history of repressing women, Arash Shenasa plans to launch a modelling contest to show "the hidden beauties" of his central Asian nation.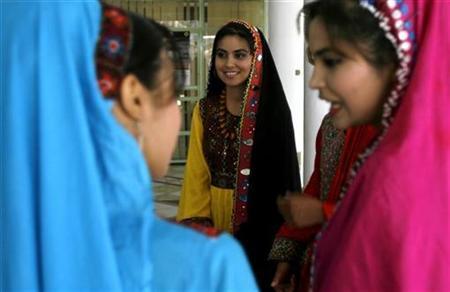 Since announcing the plan a week ago, some 2,000 men and women have enrolled to take part in the "Afghan Model" competition run by Emrooz TV, a private channel.
Top companies operating in Afghanistan have offered to sponsor the programme, the first of its kind in Afghanistan, Shenasa said.
These kinds of contests have become popular in many nations around the world. But it is an extraordinary development in Afghanistan, where more than seven years after the fall of the hardline Taliban, many women in the deeply conservative nation still wear the all-enveloping burqas.
"My main aim is to show the hidden beauties of Afghan youth, and through Emrooz TV, I am trying to show just that," says the 24-year-old, clean-shaven Shenasa.
The aspiring models will be selected through a series of contests by Afghan judges who themselves have no experience in modelling, said Shenasa, a university medical student who has worked in the media for the past several years.
The panel of judges includes a self-proclaimed body fitness champion, a fashion designer and a cinema artist.
TV ADS
The contestants will decide for themselves what they will wear, with clothing styles ranging from European, Asian, American or Afghan designs. Emrooz will choose the fashion ensembles in the final round of six contestants.
The final six will have a chance to appear in TV advertisements, which have mushroomed in Afghanistan since the fall of the Taliban, who had banned TV among their many other restrictions.
Twelve private stations and one state channel now broadcast in the capital, their content, however, monitored by government censors.
Contestants will be judged on looks, fitness and behaviour, Shenasa said.
"The programme of modelling makes youth pay attention to their bodies, for if you do not have a good body you cannot compete, and you can only have a good body if you exercise," said the fitness judge, Khawja Farid Ahmad Seddiqi.
"It is the best way of eradicating narcotics," he added.
Emrooz, owned by parliament member Najib Kabuli, shows mostly music and movies and has drawn harsh criticism for airing what is considered racy programming in Afghanistan.
"We accept the criticism," Kabuli said. "The other day some one in a shop told me that he was ashamed to watch songs aired on our TV at home before his family."
Currently Emrooz covers only 10 of the 34 provinces of Afghanistan but expects to launch a satellite service when "Afghan Model" is ready for broadcast.
(Editing by Bill Tarrant)
© Thomson Reuters 2023 All rights reserved.