A symphony of color down to the windows of chic streets
There is, right now, a holiday-like atmosphere on the rue du Faubourg Saint-Honore. There is no window where you will find proudly displayed the spring-summer collections from Moschino. The Italian fashion house has preferred instead to put a raspberry colored dress in a blender from which emerge huge bananas and oranges in a style that's ultra pop. It is the shop window the most photographed on the Faubourg Saint-Honore and which this season sets the tone of the neighborhood.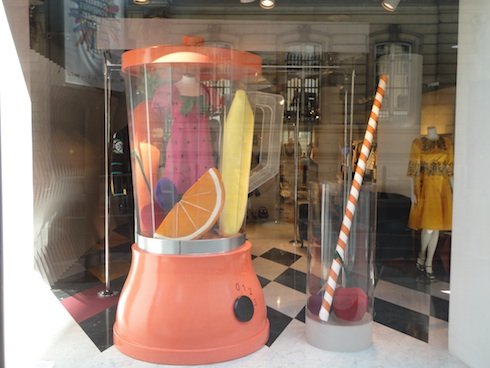 Moschino display
Playing on the theme of the 1950s, and big American cars, Prada thus put in the spotlight a selection of pleated skirts and dresses, all in sweet tones, and a host of flashy shoes, pastel pink, yellow and red dapper. Pep in the colors is found again on pleated dresses in fuchsia and spring green at Bottega Veneta. Leonard and Salvatore Ferragamo follow more or less the same trend, the former highlighting fluid combinations, pastel dresses and pants, the latter opting for floral prints.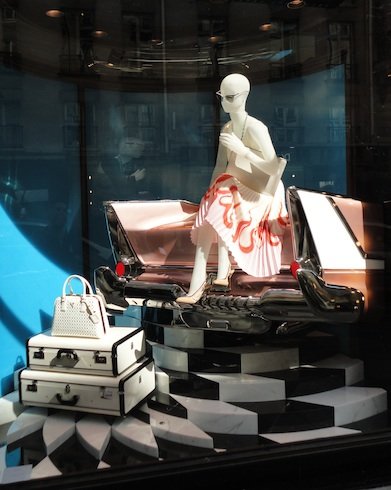 Prada
A tendency toward color that we find a little further, on the Rue Saint-Honore, with Escada reprising the pastel theme to their account, the Miu Miu pink liberty, Colette dynamic printed graphics.
If the Hermes shop seems to be the only one to promote repetitive Color Block, bags of red, green, orange or yellow amindst monochrome window setting , other houses seem to play to an offbeat theme. Between rings and uneven gymnastics bars, Chanel imposes a chic casual dress in the classic black and white. Lanvin, plays the same color card, highlighting the little black dress with long sleeves or with shoulder straps. On Rue Royale, Gucci also puts its trust in the classics. Straight black pants, pleated Hollywood dresses in black and white, offering a different interpretation of glamor.
Moving on to the Avenue Montaigne. It is in a very Parisian spirit, on the terrace of a restaurant or the zinc of a bistro, that Dior shows dresses that are very graphical. There is no color folklore but the classics - red, black and white as hallmarks of chic. Star of the window displays, lace is also making an appearance.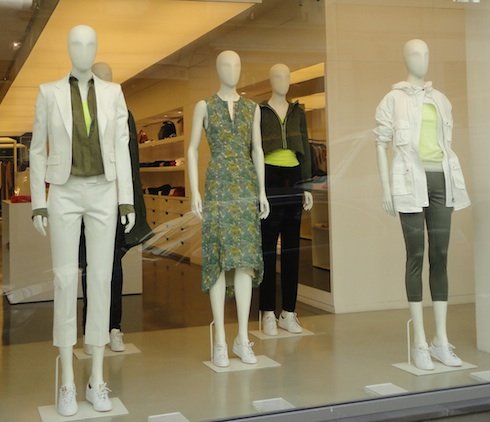 Joseph
Louis Vuitton, playfully, by featuring highly structured gowns, with a Marie Antoinette revival in mind. The same inspiration is behind the choice of materials at Dolce & Gabbana whose lace dresses are displayed against a theatrical setting. At Chanel, located at 51 Avenue Montaigne since March 8, in a store of two floors occupying approximately 600m2, it is an underwater world dreamed up by Karl Lagerfeld made of dresses of light tulle and chiffon, in every possible fresh pastel tone.
If Jil Sander prefers to offer buyers black and white by playing with prints, a flashy taste of last summer was reborn in the flourescent Lowe display, at Versace which adopted pop lime green, at Nina Ricci and its fluid lilac dresses, and at Emmanuel Ungaro, whose yellow suit literally shines.
Copyright © 2023 FashionNetwork.com All rights reserved.