A new avenue of fashion and luxury at Charles de Gaulle Airport
Just as with the connector hall between terminals 2A and 2C in early 2012, Aéroports de Paris is again betting on the allure of Parisian cult shopping addresses in the opening of its Terminal 2E at Charles de Gaulle Airport. This time Satellite 4 takes its inspiration from the world of the grands magasins, but also from the capital's primary luxury shopping avenues.

The space, designed by international design agency Saguez & Partners, offers long-distance travelers to Asia and the Americas some 6,000 sq. m. of boutiques, restaurants and lounge areas.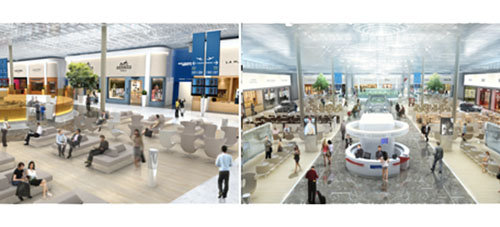 Views of the new airport lounge designed by the firm Saguez & Partners
Passengers entering the terminal first cross through the 2,200 sq. m. Buy Duty Free Paris shop. The retail brand, which invokes the atmosphere of the big French department stores, features all things French – from gourmet products to the world of beauty, with four corners dedicated to Chanel, Dior, Guerlain and Lancôme. The space also houses brands like Kiehl's, The Body Shop and Essie (with a Nails Bar) and a designer space with labels such as Marc Jacobs and Serge Lutens.
Exiting Buy Duty Free Paris, travelers emerge onto a large central square lined with restaurant stands from Ladurée, Paul, La Maison du Chocolat as well as the first airport Fnac store.
Finally, the Société de Distribution Aéroportuaire, the company that manages airport commercial space in Paris, is showcasing fashion and luxury. In addition to the airport Avenue, whose boutiques with beige awnings were clearly inspired by the Avenue Montaigne, 1,500 square meters has also been set aside for emerging brands.
Airport retail regulars are there, such as Salvatore Ferragamo, Bulgari, Hermes, Lancel, Longchamp, Burberry or the 100 sq. meter Ralph Lauren store. But there are also newcomers, such as Tod's, Chloé, Bottega Veneta and Miu Miu, which are each opening boutiques in a French airport for the first time.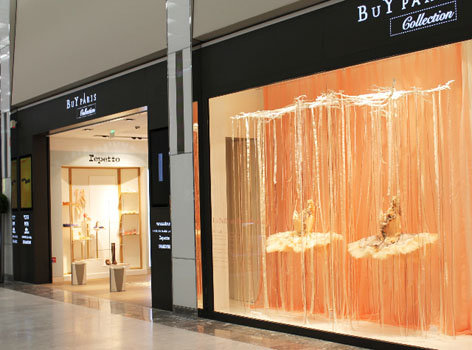 Shop window from the multi-brand Buy Paris Collection. Image, Buy Paris Duty Free
And rounding off the retail selection is the multi-brand concept Buy Paris Collection, which features brand corners epitomizing Parisian chic. At the entrance, Repetto showcases its new concept of furniture dedicated to "travel retail." Next in line are Vanessa Bruno, Zadig & Voltaire, Marc by Marc Jacobs and Gerard Darel, but also Lacoste and Hugo Boss. Swarovski and the luggage manufacturer Tumi complete the list, while an area in the store's center will feature other brands on a provisional basis.
Copyright © 2022 FashionNetwork.com All rights reserved.