50% of back-to-school shopping done in August
More than 35 million "Power Moms" access the Internet regularly and have children under 18, according to a 2008 eMarketer report. They make most household purchase decisions, including how and where to spend the estimated $21.35 billion on 2010 Back to School supplies. From new backpacks and binders to sneakers and shirts, Back to School is the second largest shopping season for families, behind the holidays. Ignoring the needs and desires of online moms -- 20% of all active web users -- is a costly mistake for advertisers.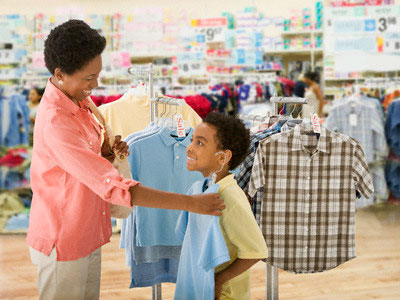 Photo : Corbis
To provide better insights on what online advertising resonates with Power Moms, and their shopping intentions, Unicast conducted a Back to School survey. A leader in online advertising specializing in rich media and video solutions and services, Unicast polled more than 1,700 Power Moms about their Back to School activities, the popularity of mommy blogs and the ads they experience when reading them.
Unicast's 2010 Back to School Survey:
-- August is prime shopping time. Fully 50% of respondents are first hitting stores for Back to School supplies this month. The first week of August is busiest, with almost 1/4 of all Power Moms (22%) starting to get their kids' gear.
-- Saving money is still top of mind. Ads with coupons, discounts or sales caught the eye of 80% of Power Moms. Also, 45% first started reading mommy blogs to find money saving advice.
-- Interactive ads get noticed. Respondents liked or remembered ads with contests (69%), downloadable content (36%), customized local information (36%), surveys or quizzes (33%).
-- Online ads aren't evil. While 31% of moms think online ads are "annoying but inevitable," 27% don't care and 35% think they're sometimes helpful or really like them. Less than 6% of respondents "hate them."
-- Mom puts food and kids first. In terms of product ads respondents want to see, 69% like ones for groceries. Children's items dominate the other top 4 ad slots, with children's clothing (49%), toys/games (42%), children's entertainment (41%) and baby items (39%). Less than 1/3 of respondents cared to see ads for women's clothing, accessories, makeup/hair products, travel or entertainment.
-- Big box retailers win. Stores like Walmart and Target get the bulk of Back to School buys, with 84% of respondents buying school supplies and 59% buying clothes at these outlet types.
-- Mothers listen to each other. One of the most popular online activities for Power Moms is to read blogs written by fellow parents. More than 1/3 of respondents regularly read six or more mommy blogs, and 62% spend at least 3 hours a week doing so.
"Unicast's Back to School Survey identifies many of the online conversations taking place this season and what ad formats and products resonate with this demographic of mothers online," said Bryan Hjelm, VP of Product and Marketing for Unicast. "With these insights, marketers can better leverage ad campaigns across the web and specifically with mommy blogs -- a highly trusted resource for millions of parents. Not engaging with these blog publishers means ignoring an active and devoted audience of prime consumers: Power Mom readers preparing to shop."
Advertisers have many opportunities to conduct campaigns targeted at moms especially by placing ads on influential mommy blogs; 91% of blogger respondents indicated they sell ad space. There's a wide array of ad servers used by this publisher group, and 40% reported self-powering their ad sales. While 47% of mommy bloggers spend more than 10 hours a week working on their sites, most don't make a living from blogging; 40% report earning $100-$500 a month from advertising.
Using Zoomerang.com, Unicast conducted an online survey of 53 mommy bloggers from Aug. 16-22, 2010. Some of those bloggers then invited their readers to take a separate survey, which garnered 1,953 participants. Of those reader respondents, 1,773 were Power Moms -- women age 25-54 with at least one child.
Copyright © 2021 FashionNetwork.com All rights reserved.