2nd session of Parisian trade shows: the "other" fashion week
What an event-filled week this is going to be in the French fashion capital, with not only Paris Womenswear Fashion Week starting today (September 27) but also the 2nd-session of Parisian trade shows about to begin in just two days. Visiting buyers can expect to see the same trade shows as usual, with the exception of Workshop which was recently acquired by Tranoï and will be absent this session. From September 29 to October 3, eleven fashion fairs will be organised across Paris, gathering just over 1,400 brands. This is a slight decrease in comparison to the last 2nd-session edition that took place back in March.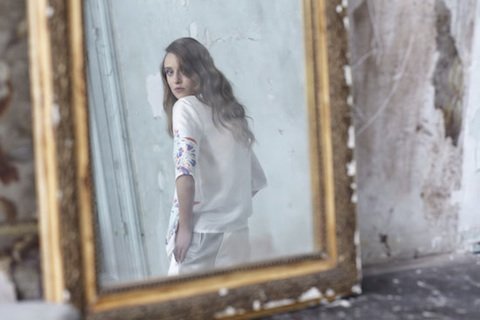 Florem Oïto will be exhibited by Tranoï
Amongst all 2nd-session trade fairs, Tranoï (Sept. 30 – Oct. 3) is as usual the biggest one by far with over 450 brands attending the show. Those will be split between three prestigious venues: Paris Bourse, Espace Montaigne and Carousel du Louvre. The latter will contain a space named 'La Mezzanine' that is dedicated to upcoming designers. "They are aiming for the same target audience as the other labels showcased at Tranoï by taking a really artistic approach to their work", said Michael Hadida, Tranoï's managing director. 388Wonder, Florem Oïto, Bekh, Olympe75018 and Johan Ku are some of the young talents to present their creations upstairs on the mezzanine, which is intended to evoke the idea of a springboard for emerging professionals. As for Workshop, the small fashion fair that Tranoï acquired a few months ago, the organiser decided to skip it this season. "It is better we take our time in order to do a good job instead of doing a badly rushed one now", explained Michael Hadida.
US menswear trade show Capsule (Oct. 1 – 3), taking place at the Garage de Turenne in the Marais, is one of the few fairs to be welcoming more exhibitors than the previous edition, with 120 brands confirmed as opposed to the 80 that attended the show in March. Capsule's womenswear fair has also visibly grown.
However, the same cannot be said for Designers & Agents (Sept. 30 – Oct. 3), another US fashion fair participating at this 2nd session. Since becoming too scattered it ended up losing its "gallery feel", so organisers decided to make the environment more intimate again by showcasing no more than 30 brands inside the Espace 5 Bis venue in Le Marais, their favourite Parisian district.
As usual, Rendez-Vous (Sept. 29 – Oct. 2) will split its 50 or so exhibitors into 2 groups. While Espace Evolution in the Marais will contain the more familiar ready-to-wear brands, the Atelier Richelieu near the Palais de la Bourse will serve as a platform for young designers. In order to get a head start on the competition, Rendez-Vous will begin one day before the others.
Zip Zone (Sept. 30 – Oct. 3) will remain on the same location and with the same brands. The trade show will divide its 60 or so designers in between two addresses at the Musée des Arts Décoratifs (103 and 111 on Rue de Rivoli).
Vendôme Luxury (Sept. 30 – Oct. 3) will be held in three distinctive spaces at the Hôtel d'Evreux, Hôtel Le Meurice and the Park Hyatt. The first will be dedicated to the "red carpet" labels, the second to womenswear and the third to accessories, together gathering a total of 70 brands.
This season, Le Memy (Sept. 30 – Oct. 3) will be leaving the posh Hôtel Ritz for a place at the Bourse de Commerce, but the fair's founder Mariel Gamboa is already familiar with the place since that is where she had previously conceived Tranoï. The number of exhibitors has also increased, and the new location should welcome around 50 brands this time.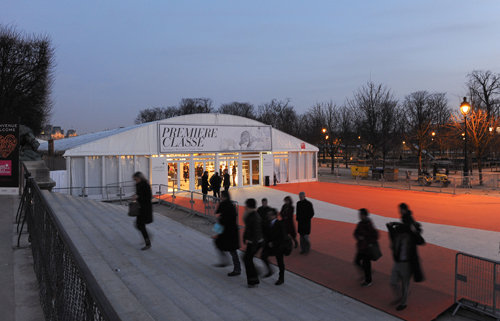 Première Classe March 2011 edition
As for the three fairs happening on the Jardin de Tuileries, no changes have been announced so far. The biggest one of them, Première Classe (Sept. 30 – Oct. 1), is expecting a total of 350 exhibitors. The accessories trade show will be maintaining that same number for the March 2012 edition, since it is the only one of the four fairs organised by WSN (in the 2nd session) that is not concerned by the changes taking place due to the fusion with Prêt à Porter Paris.
Next to it on the Jardin des Tuileries, Atmosphère's (Sept. 30 – Oct. 1) will be hosting its last edition. Launched by Prêt à Porter Paris and recently bought by Who's Next over the summer, the fair will gather around 100 brands.
Next year, Atmosphère's location will be taken over by its neighbouring trade show Paris sur Mode Atelier, which is expanding under the direction of WSN Developpement. But for now, Paris sur Mode Atelier (Sept. 30 – Oct. 1) will present a selection of 45 brands, which is more than last year due to the addition of some beachwear lines.
As for The Box (Sept. 30 – Oct. 1), the accessories trade show founded by Muriel Piaser will also bid adieu this year. Located at the Pavillon Cambon, the fair will be replaced by Première Classe in 2012. Around 110 brands are expected to attend this final edition.
Copyright © 2023 FashionNetwork.com All rights reserved.