"Greener" palm oil: pricey and not green enough?
By Catherine Hornby
AMSTERDAM (Reuters) - A drive to improve the green credentials of palm oil, used in foods and cosmetics but tainted for some by links to deforestation, could make it too expensive for shoppers and may anyway be of limited environmental benefit.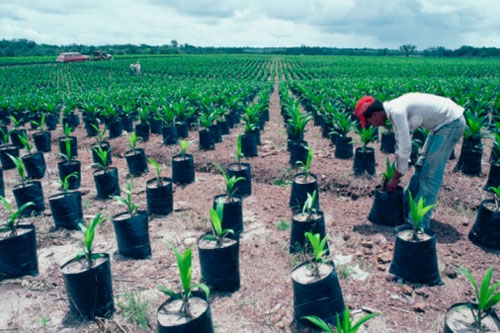 Palm Oil Farm - Belem, Brazil
The first palm oil certified in the new scheme Round Table for Sustainable Palm Oil (RSPO) unloaded in Rotterdam in November, but some environmentalists said the system was not doing enough to tackle issues such as deforestation and peatlands clearance.
Industry players said this sceptical response from green groups would leave companies with little incentive to switch to the pricier oil as a way to improve their ethical image.
"Palm oil doesn't have a good image and it's not likely to be improved by this sustainability push, it doesn't seem to make any difference," said Ernesto Zamudio, a trading manager at oils and fats manufacturer AarhusKarlshamn (AAK).
Certification can add a premium of around $50 (34.38 pounds) a tonne to palm oil in the wholesale market.
Palm oil is produced mostly in Indonesia and Malaysia where it has led to the rapid clearing of millions of hectares of rain forest. It is used as cooking oil, in products such as margarine, biscuits, crisps, lipstick and soap, and for biofuel.
Producers and buyers of the tropical oil established the RSPO in 2004 to develop an ethical certification system including commitments to preserve forests and wildlife and to deal with local communities in a responsible way.
About 1.5 million tonnes of palm oil production capacity is now certified as sustainable and about 100,000 tonnes is available per month, said RSPO President Jan Kees Vis.
But he estimated that less than 100,000 tonnes of certified palm oil had traded so far, while in November some industry leaders had forecast that up to 750,000 tonnes could be sold by the end of 2008.
"Uptake is slow, which is related to the economic crisis at the moment. Companies are not really willing to pay the premium -- anything that increases cost is out of the question," said Vis.
CONTENTIOUS
Overall, about 35 million tonnes of palm oil are exported globally annually, German oilseeds analysts Oil World estimate.
Demand for palm is also seen holding up in the recession as it tends to be cheaper than other oils. It trades at roughly $700 a tonne in Europe, compared with more than $800 for soy oil.
"Due to the downturn, people are becoming more reliant on palm oil as it trades at a relative discount, so actually the recession is a good thing for palm," said Ambrian analyst Dougie Youngson.
AAK's Zamudio said palm oil demand was about 10 percent lower than expected in the first quarter of 2009, but had not fallen as much as demand for premium oils such as olive oil.
But he said the firm had not been able to sell on the majority of the 1,000 tonnes of certified sustainable palm oil they had bought so far.
Vis, who is also sustainable agriculture director for Unilever said the RSPO was trying to stimulate trade by asking members to publicly state their commitment to converting to sustainable palm oil, though he added not many had done so.
Unilever has committed to using only fully traceable palm oil by 2015, and firms including British retailer J Sainsbury and Dutch supermarket group Ahold have made similar pledges.
But many companies are shying away from publicly discussing their palm oil use, as the issue remains contentious and some conservation groups argue that the RSPO's voluntary rules for the group's 266 members are ineffective at protecting the environment.
Business goals to expand the lucrative industry -- which can necessitate more forest clearances -- are also incompatible with the position of vocal environmental groups such as Greenpeace, who say the RSPO needs to toughen up.
"If a company is RSPO certified at one plantation, it does not stop them from continuing unacceptable practices elsewhere," said Andy Tait, forest campaigner for Greenpeace.
"Palm oil producers and firms that buy palm oil need to ensure no further forest is cleared for palm oil production -- that's the biggest sustainability issue connected to the trade."
(Reporting by Catherine Hornby, editing by William Hardy)
© Thomson Reuters 2023 All rights reserved.