"Cowboy chic" the new Hermes style
PARIS (Reuters) - The new Hermes woman is a 21st century Western film heroine. Wearing a black Stetson, she walks straight out from the desert, scantily clad in black wide-cleavage dress, tightened at the waist by sturdy superimposed belts and adorned with studded leather bracelets.
Jean-Paul Gaultier, the enfant terrible of French fashion and star designer at Hermes, imagined next summer's woman as trigger-happy adventurer dressed as if she were about to shoot down an opponent in front of a saloon bar.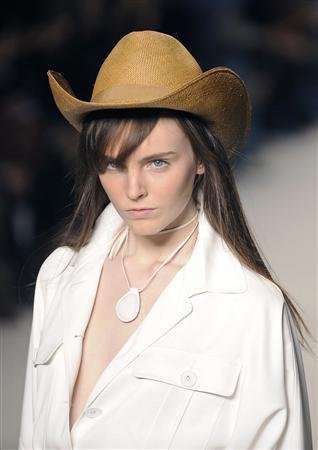 And her no-nonsense attitude makes her all the more sensual, say his fans.
"Jean-Paul loves women and dresses us in a feminine and very sensual way," super-model Stephanie Seymour, who opened the show wearing an elegant white shirt, straight pants and suede hat, told Reuters.
"I thought it was like a chic Pocahontas," Seymour added about the collection.
Strutting in Seymour's footsteps was fellow super-model Naomi Campbell, wearing a flamboyant red dress that barely covered her body and revealed a sexy red bikini bottom.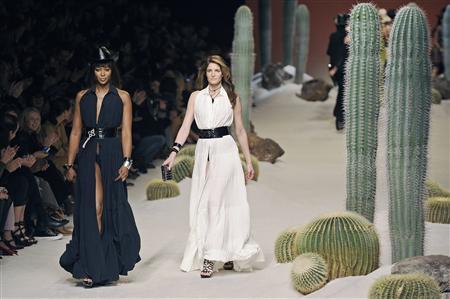 Amid an Arizona desert-themed decor, complete with sand and cactuses, Campbell threw out her cowboy hat to a cheering crowd against a backdrop of Western-style music.
"I did not go to Santa Fe," Gaultier told Reuters. "It was only in my head."
Gaultier's 2009 spring/summer "cowboy chic" collection offered a new interpretation of Hermes's equestrian roots -- the fashion house started as a saddle maker.
Recurring items included crocodile-skin bustiers and jackets, fringed ponchos and floppy sand-colour suede hats.
But many other accessories such as tall leather boots and soberly cut leather bags, remained faithful to the classic Hermes style.
"I generally prefer men's clothes but there was a little black dress in there that I would have liked," actress and singer Jane Birkin, who admits to wearing Hermes cashmere scarves regularly, told Reuters.
(Reporting by Astrid Wendlandt; editing by Myra MacDonald)
© Thomson Reuters 2023 All rights reserved.