"Barbie" undergoes artsy makeover in San Francisco
By Alexandria Sage
SAN FRANCISCO (Reuters) - The blond hair, pert nose and twinkling eyes of the shapely doll were unmistakably Barbie, but what was she doing attached to a prehistoric bug?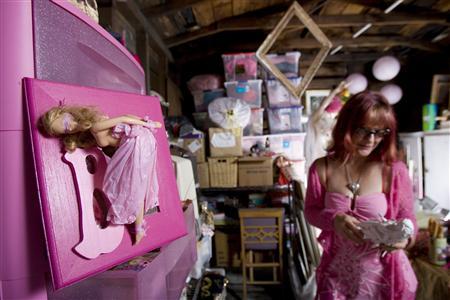 Welcome to San Francisco's annual "Altered Barbie" exhibition, where the iconic doll of American pop culture is cut up, glued down, juxtaposed with all sorts of objects and transformed in a new mode of self-expression.
There is Barbie in a battle with an Iguana, Barbie and the Burning Bush, Barbie with a sex toy, Barbie dipped in polenta and Barbie posed languidly against a toaster.
"There's the need to change her," said Charlotte Davis, a festival co-founder who called the world's best-known blond -- apologies to Paris Hilton and Britney Spears -- "just a blank canvas." "She's totally static. As a sculptor, I don't like that. I like to change her."
The joys of tinkering with Barbie has spurred a handful of shows in U.S. cities. Curator and co-founder of the San Francisco exhibit, Julie Andersen, said she's been surprised by the number of three-dimensional artists who have embraced the idea of manipulating an America icon with a hot glue gun.
"They start altering her and it becomes much more thoughtful, it becomes much more personal and identity-oriented," Andersen said. "It's much more thoughtful than just putting needles in her eyes."
Artist LaVonne Sallee calls herself "obsessed," having altered some 200 Barbies.
Sallee, a former Wells Fargo criminal investigator who now travels to international doll conventions with her art, rummages through flea markets and garage sales for Barbies and odd items she then juxtaposes with her muse.
Sometimes it's a cross ("Barbie is always being crucified"), sometimes its action figures. In one of Sallee's pieces that takes aim at TV dating show "The Bachelorette," plastic skeletons woo Barbie.
Many of Sallee's Barbies have custom-made eyelashes, and anatomically-accurate breasts, thanks to a pencil eraser and a dollop of paint.
"Nipples are my specialty," Sallee said.
Another artist, Ruby Pearl, accompanied by her pink poodle, showed off work featuring a bound and gagged Barbie covered in wax, her panties around her ankles but with spring flowers and birds in her hair, signifying Barbie "being reborn."
"I wasn't allowed to play with Barbie when I was little," Pearl said, laughing: "This is what happens when you don't let your kids play with Barbie!"
About a third of the exhibition's artists are men, Andersen said. Photographer Danny Sanchez, known as "the Barbie guy" in art school, poses the famous blond in the same frame as real-life beauties, whether Vogue fashion models, female impersonator RuPaul, or showgirls from the musical "Chicago."
"She's very photogenic," Sanchez said. "She's always ready for the camera."
A diverse group of curious art enthusiasts showed up at Altered Barbie's opening night, where pink was the colour of the night and one woman wore a dress made from bubble wrap.
Visitor Alan Bamberger, who runs www.artbusiness.com, called the show "a delightful relief from the real galleries."
"You've got the gay Barbie and the death Barbie," he said, waving a hand past the array of altered dolls. "Everybody gets to put in their two cents about the planet or social issues or political agendas using Barbie. It's all here."
(Reporting by Alexandria Sage)
© Thomson Reuters 2023 All rights reserved.