'Back to Noise' makes its mark
They dress ladies, highlight their shape and curves and bring Amazonian femininity to cities which like "to be beautiful". Who? The new brand from top of the range designer Catherine Dupire-Clément, 'Back to Noise'. In the winter she will present its second collection and already, it's safe to say, there will be uncompromising style.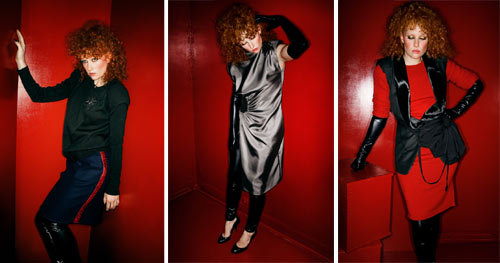 Back to Noise outfits, Autumn-Winter collection 2009/2010 - Photos : Laurent Croisier
It must be said that this is not her first attempt in the world of design. Cathering Dupire-Clément, the driving force behind the label, was born as a designer fifteen years ago – professionally speaking that is. She started out at Claudie Pierlot; the brand was at its first stage of development when she started to work on its style. Next came a trip to Capucine Puerari at Christophe Lemaire. Following this came the Rykiel period where Ms Dupire-Clément worked with Sonia Rykiel for almost five years, in charge of the "commercial" line. With a strong career establisged she subsequently decided to strike out and spread her wings on her own. "All the knowledge I have accumulated over the resembled maturity to me. It needed to be expressed at last", she said.
The idea has been there since January 2008. Between then and now, the designer has formed a winning combination: head among the stars and feet on the ground. In other words, whilst she was sketching the spring-summer 2009 collection for Sonia Rykiel, she was multi-tasking and also acting in an independent administrative capacity – searching for French and Italian producers, structuring the brand and opening a showroom in New York.
There are around twenty outfits in the first season's collection, the one for the coming winter should contain around twenty-five. All with the objective of "reclaiming the female form", specified the designer, with cuts, structures, angles, all to highlight the waist and the shoulders in particular thanks to accessories. It's the large belt with a clasp which is transformed into a scarab beetle or even leather or fur epaulettes which come on top of knitted tops. Equally for materials, she has used "classics, but to subvert, like the sailor's jacket, silk, wool, mixed with smoothed or printed foal skin, or even lamb or python. Velvet as well, [because] it gives depth. And, of course, knitwear for the winter which will be reflected in spring-summer 2010". A collection which a strong identity is emerging for spring-summer 2010.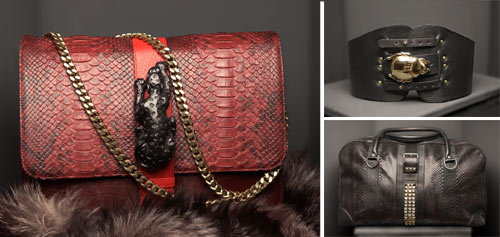 Back to Noise accessories, photos Laurent Croisier
In the meantime, we will be able to enjoy that which arrives in the autumn. From ready-to-wear to accessories, bags, small leather goods and even belts. In sum, the forms cover the "basics", but that the brand revisits to create a "cabinet of curiosities", brightened up here and there by a panther, a scarab beetle or even a frog.
Marked by icons of rock such as Poison Ivy, the guitarists from the Cramps and Siouxsie, Catherine Dupire-Clément has joyfully drawn from rock when thinking of her designs. In fact, two passions have guided her from a young age: music and fashion. It is often overstated, yet for her, the two do exist side by side. Better than that actually, one feeds the other. It's perhaps shyness that led her to the design studio rather than the music studio, but she has stayed firmly attached to the code of punk/new-wave; a code she has translated into colour in her designs.
Here, a high-waisted goatskin skirt, printed in either leopard skin or gleaming red or black. There, dresses in black velvet or electric grey silk with squared shoulders, which follow the body's curves. Or, purple knitted tops, red, crimson and scarlet in a spider's web effect. Without a doubt the collection is not lacking personality. A breath of fresh air in the face of recent downbeat times.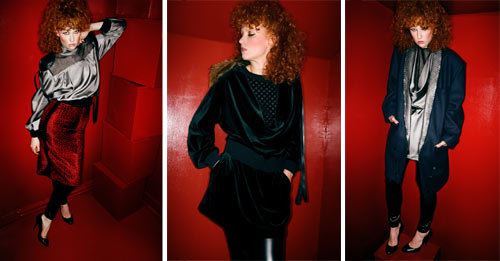 Back to Noise outfits, Autumn-Winter collection 2009/2010, photos Laurent Croisier
As for the price, the dresses come for around €500 whilst the tops cost around €250. Coats are available for €1,200, a spencer for €825. At the moment, only the Farida boutique in the 3rd Arrondissement in Paris distributes the brand. With a third season on the cards, 'Back to Noise' is counting on expanding into other points of sale. So keep an eye on multibrand boutiques and department stores across the Atlantic as well as in Europe in the months to come.
By Jonathan Fulwell (Source: Emilie-Alice Fabrizi)
Copyright © 2023 FashionNetwork.com All rights reserved.