Input costs seen squeezing H&M's Q2 margins
June 21 - Earnings at H&M, the world's second-largest fashion retailer, are expected to have dropped in the second quarter as the firm chose not to pass on higher costs such as cotton and Asian wages to price tags.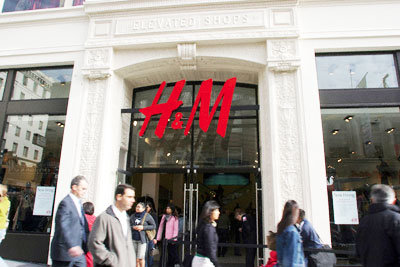 A H&M store in San Francisco, USA - photo: corbis
The Swedish budget apparel firm, with some 2,300 stores in 40 countries, will publish its March-May report on June 22 after unveiling last week a mere 2 percent year-on-year rise in sales to 27.6 billion crowns amid slack spending in Europe.
The mean forecast in a Reuters poll of analysts is for a 16 percent drop from last year in pretax profit to 5.89 billion crowns ($921 million). The gross margin is estimated at 62.0 percent, down from 65.9 percent a year ago.
Zara owner Inditex, the world no.1 clothes retailer and H&M's main rival, this week posted a 10 percent rise in quarterly net profit as expansion into emerging markets helped offset sluggish demand in home market Spain and rising costs.
Apparel firms around the world have struggled since last year to cope with higher costs, particularly for cotton -- although prices have eased somewhat from highs -- and wages in Asian manufacturing centers.
At the same time shoppers in developed markets are struggling with rising fuel and food prices, as well as austerity measures.
H&M is more exposed than arch-rival Inditex to rising labor costs in Asia, and is pressured by adverse currency swings.
Some clothing manufacturers are trying to pass some of the increased costs on to consumers but H&M, conscious of its market share and low-price image, has not raised prices.
Whether H&M did so in the second quarter, or will flag plans to hike prices this year, will be key when the report is posted
"We expect capacity constraints at manufacturers and suppliers to have eased somewhat, but still to pressure the gross margin," DnB NOR analysts, which have a "sell" rating on H&M, said in a note to clients.
"Short- to medium term, much will hinge on signals on sourcing cost trends," they said, adding "a good (stock) re-entry point could materialize sooner rather than later."
World no.3 fashion retailer Gap slashed earnings forecasts last month, saying higher price tags will not offset the cotton costs.
H&M shares, which have fallen from last September's record high on the worries about costs, are up 5 percent this year while Inditex is up 10 percent, Gap is down 18 percent and the European sector .SXRP is down 8 percent.
Sales at H&M, which has the bulk of its business in debt-crisis worrying Europe, have undershot expectations several months in a row.
H&M, whose high street rivals also include Marks & Spencer and Next, said on Tuesday that Italian luxury fashion house Versace will design a collection for it, the latest of a string of designer collaborations on exclusive collections.
"This is another positive step in H&M's brand differentiation and it is clear that its designer partnerships are popular among consumers," analysts at Spirito Santo, which has a "sell" stance on H&M's shares, said in a note.
"However, recent monthly sales figures at H&M have been disappointing on like-for-likes, despite a sharp increase in both marketing and product investment. H&M is taking a hit on margins and we are not yet seeing a benefit at the sales line."
(Reporting by Anna Ringstrom; Editing by David Hulmes)
© Thomson Reuters 2018 All rights reserved.